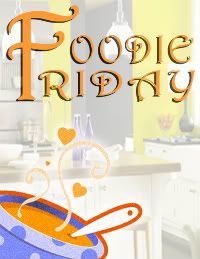 Hosted by
and
I apologize I have no recipe to share with you this week. We've been eating meagerly, and out a lot as we get ready for our move. The truck is coming by lunch, and we should have it packed by nightfall!
~ Take a look at these yummy recipes shared at last week's linky ~
I love this idea! We've been drinking the store Vitamin Water all week, and I keep asking myself, is this really water or just sugar? I bet this tastes so much better!
Crystal and Co.
shared these cute blueberry ice cubes and a refreshing drink recipe to go along with it.
I think once the unpacking is done, I'll have to sit down with a glass of these!
Baking with Blondie
always inspires me! This week she shared Texican Pillows aka Enchilada stuffed Crescents.
Bread and cheese, my kids will eat these up!
I have a lot of vanilla I need to use, so this just may become my new favorite drink!