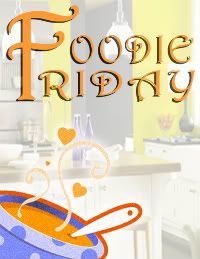 <a <span style="background: yellow;" class="goog-spellcheck-word">href</span>="http://<span style="background: yellow;" class="goog-spellcheck-word">homemaidsimple</span>.<span style="background: yellow;" class="goog-spellcheck-word">blogspot</span>.com"><<span style="background: yellow;" class="goog-spellcheck-word">img</span> <span style="background: yellow;" class="goog-spellcheck-word">src</span>="http://i1192.<span style="background: yellow;" class="goog-spellcheck-word">photobucket</span>.com/albums/aa339/<span style="background: yellow;" class="goog-spellcheck-word">HomeMaidSimple</span>/<span style="background: yellow;" class="goog-spellcheck-word">Foodiefridaymark</span>-1.<span style="background: yellow;" class="goog-spellcheck-word">jpg</span>" alt="<span style="background: yellow;" class="goog-spellcheck-word">BWS</span> tips button" width="125″ height="150″ /></a>
Hosted by
and
We still have not completed our kitchen remodel.  Although we have a working sink and dishwasher, we are in the process of finishing the butcher block countertop.  That means, I can't use the countertops. Once again, cooking has become a tad difficult.  So this week I headed to pinterest for some fun treats to make with the girls.
Awhile ago I came across a pin for home made Chocolate Syrup. It claimed to be more chocolatey then Hershey's Syrup, plus you get the added benefit of knowing exactly what was put in it.
Home Made Chocolate Syrup
Igredients
1 1/4 cups sugar
1 cup unsweetened cocoa powder (I used Rodelle Gourmet Baking Cocoa)
1 cup water
1/4 tsp salt
2 tsp Vanilla extract (I used Rodelle Organic Vanilla Extract)
Combine sugar and cocoa in a medium saucepan.  Whisk together to break up any clumps.  Stir in the water and salt and bring to a boil over medium heat, stirring frequently. Once it boils reduce heat to low, and simmer until thickened.  Remove from heat and let stand 5 minutes.  Mix in the vanilla.  Store in the fridge.
Voila! Home made chocolate syrup! These are all ingredients I always have on hand, so it is definitely cheaper for us to make our own, then to buy it.  I do think it is more chocolater than Hersheys as well. 
I am so excited to try out all the recipes you linkd up last week!!  Check out these three delicious looking treats, and then link up your recipes below!
Roasted Garlic and Butternut Squash Soup from
Being MVP
and don't forget dessert with
Simple Nests
Rice (Krispy) and (Swedish) Fish Sushi
document.write('