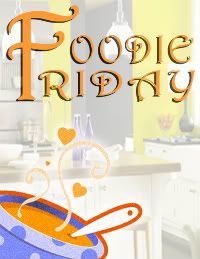 <a <span style="background: yellow;" class="goog-spellcheck-word">href</span>="http://<span style="background: yellow;" class="goog-spellcheck-word">homemaidsimple</span>.<span style="background: yellow;" class="goog-spellcheck-word">blogspot</span>.com"><<span style="background: yellow;" class="goog-spellcheck-word">img</span> <span style="background: yellow;" class="goog-spellcheck-word">src</span>="http://i1192.<span style="background: yellow;" class="goog-spellcheck-word">photobucket</span>.com/albums/aa339/<span style="background: yellow;" class="goog-spellcheck-word">HomeMaidSimple</span>/<span style="background: yellow;" class="goog-spellcheck-word">Foodiefridaymark</span>-1.<span style="background: yellow;" class="goog-spellcheck-word">jpg</span>" alt="<span style="background: yellow;" class="goog-spellcheck-word">BWS</span> tips button" width="125″ height="150″ /></a>
Hosted by
and
If you've been following along this last week, you'll know that my Grandma passed away last Thursday. She went peacefully in her sleep.  I've been thinking about her all week, and all the memories I have her. Although the one thing most people remember about my Grandma are her Quilts, I have some memories of her food as well.
One of Grandma's best recipes was for pie! No one could make a pie like my Grandma could. To avoid the War, my Grandpa took a job at a ranch, and my Grandma became cook for the ranchers. She made a fresh pie every day to serve with dinner, and as a result had a very tasty pie recipe.
I'm extremely sad to say I can't share her recipe with you. Turns out, she did it all by look and feel, and no one has a recipe. I can tell you however that one of the main ingredients in her crust was Lard. 
So if anyone out there has a pie crust recipe with Lard in it, please do share with me!
Then I started thinking about other foods she would make or eat regularly. Potatoes! Growing up her dad would eat potatoes every morning for breakfast. She loved some fried potatoes, baked potatoes, and potato casseroles. Specifically scalloped potatoes. Again, I have no recipe.
Finally I remembered the perfect food memory with a recipe to share with you.
A Tomato!
I kid you not, my Grandma liked to eat a slice of tomato with just a little salt. As a child I thought this was the weirdest way to eat a tomato. Don't get me wrong, I liked tomatoes, but they belong in a salad- with lettuce, and carrots and cucumbers. Not all alone on a plate.  Turns out she had a good thing going, tomatoes are pretty good all alone.
I'm going to take todays recipe one step further for you though. When I married Mark I became aware of another very odd way of eating tomatoes. A tomato sandwich. No bacon or lettuce with it. Just tomato. Turns out Mark knew that tomatoes were good without anything extra.
Tomato Sandwich
Ingredients
-small Roma Tomato, sliced
-2 slices bread
– miracle whip or mayo
– salt and pepper
Directions
Choose your bread. Any bread works. My personal favorite though is an Onion Bagel.  Spread some Miracle Whip on one side of each bread slice.  Add tomato slices to your hearts desire. Season with a little salt and pepper. Sit back and enjoy a very refreshing sandwich.
 Winner Winner Chicken Dinner
If you linked up a recipe last week you were entered into a giveaway for a $25 Walmart Gift Card. Unfortunately I can only give it to a US resident (so sorry!).  Thanks to Random.org our winner is
Amanda from At the Red Table
Thanks for linking up Amanda!!
Now it's your turn!  Please join Diane and I in sharing some of your favorite recipes on the linky below. Feel free to link up as many recipes as you like, as long as you haven't linked them with us before. Also if you'd like to grab our button and post it on your site, we'd love you forever! (OH and it will be smaller when you paste it, I just like mine big).
Happy Recipe Hunting
document.write('