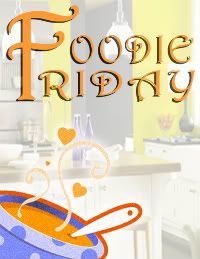 <a <span style="background: yellow;" class="<span style="background: yellow;" class="<span style="background: yellow;" class="<span style="background: yellow;" class="goog-spellcheck-word">goog</span>-spellcheck-word"><span style="background: yellow;" class="goog-spellcheck-word">goog</span></span>-spellcheck-word"><span style="background: yellow;" class="<span style="background: yellow;" class="goog-spellcheck-word">goog</span>-spellcheck-word"><span style="background: yellow;" class="goog-spellcheck-word">goog</span></span></span>-spellcheck-word"><span style="background: yellow;" class="<span style="background: yellow;" class="<span style="background: yellow;" class="goog-spellcheck-word">goog</span>-spellcheck-word"><span style="background: yellow;" class="goog-spellcheck-word">goog</span></span>-spellcheck-word"><span style="background: yellow;" class="<span style="background: yellow;" class="goog-spellcheck-word">goog</span>-spellcheck-word"><span style="background: yellow;" class="goog-spellcheck-word">href</span></span></span></span>="http://<span style="background: yellow;" class="<span style="background: yellow;" class="<span style="background: yellow;" class="<span style="background: yellow;" class="goog-spellcheck-word">goog</span>-spellcheck-word"><span style="background: yellow;" class="goog-spellcheck-word">goog</span></span>-spellcheck-word"><span style="background: yellow;" class="<span style="background: yellow;" class="goog-spellcheck-word">goog</span>-spellcheck-word"><span style="background: yellow;" class="goog-spellcheck-word">goog</span></span></span>-spellcheck-word"><span style="background: yellow;" class="<span style="background: yellow;" class="<span style="background: yellow;" class="goog-spellcheck-word">goog</span>-spellcheck-word"><span style="background: yellow;" class="goog-spellcheck-word">goog</span></span>-spellcheck-word"><span style="background: yellow;" class="<span style="background: yellow;" class="goog-spellcheck-word">goog</span>-spellcheck-word"><span style="background: yellow;" class="goog-spellcheck-word">homemaidsimple</span></span></span></span>.<span style="background: yellow;" class="<span style="background: yellow;" class="<span style="background: yellow;" class="<span style="background: yellow;" class="goog-spellcheck-word">goog</span>-spellcheck-word"><span style="background: yellow;" class="goog-spellcheck-word">goog</span></span>-spellcheck-word"><span style="background: yellow;" class="<span style="background: yellow;" class="goog-spellcheck-word">goog</span>-spellcheck-word"><span style="background: yellow;" class="goog-spellcheck-word">goog</span></span></span>-spellcheck-word"><span style="background: yellow;" class="<span style="background: yellow;" class="<span style="background: yellow;" class="goog-spellcheck-word">goog</span>-spellcheck-word"><span style="background: yellow;" class="goog-spellcheck-word">goog</span></span>-spellcheck-word"><span style="background: yellow;" class="<span style="background: yellow;" class="goog-spellcheck-word">goog</span>-spellcheck-word"><span style="background: yellow;" class="goog-spellcheck-word">blogspot</span></span></span></span>.com"><<span style="background: yellow;" class="<span style="background: yellow;" class="<span style="background: yellow;" class="<span style="background: yellow;" class="goog-spellcheck-word">goog</span>-spellcheck-word"><span style="background: yellow;" class="goog-spellcheck-word">goog</span></span>-spellcheck-word"><span style="background: yellow;" class="<span style="background: yellow;" class="goog-spellcheck-word">goog</span>-spellcheck-word"><span style="background: yellow;" class="goog-spellcheck-word">goog</span></span></span>-spellcheck-word"><span style="background: yellow;" class="<span style="background: yellow;" class="<span style="background: yellow;" class="goog-spellcheck-word">goog</span>-spellcheck-word"><span style="background: yellow;" class="goog-spellcheck-word">goog</span></span>-spellcheck-word"><span style="background: yellow;" class="<span style="background: yellow;" class="goog-spellcheck-word">goog</span>-spellcheck-word"><span style="background: yellow;" class="goog-spellcheck-word">img</span></span></span></span> <span style="background: yellow;" class="<span style="background: yellow;" class="<span style="background: yellow;" class="<span style="background: yellow;" class="goog-spellcheck-word">goog</span>-spellcheck-word"><span style="background: yellow;" class="goog-spellcheck-word">goog</span></span>-spellcheck-word"><span style="background: yellow;" class="<span style="background: yellow;" class="goog-spellcheck-word">goog</span>-spellcheck-word"><span style="background: yellow;" class="goog-spellcheck-word">goog</span></span></span>-spellcheck-word"><span style="background: yellow;" class="<span style="background: yellow;" class="<span style="background: yellow;" class="goog-spellcheck-word">goog</span>-spellcheck-word"><span style="background: yellow;" class="goog-spellcheck-word">goog</span></span>-spellcheck-word"><span style="background: yellow;" class="<span style="background: yellow;" class="goog-spellcheck-word">goog</span>-spellcheck-word"><span style="background: yellow;" class="goog-spellcheck-word">src</span></span></span></span>="http://i1192.<span style="background: yellow;" class="<span style="background: yellow;" class="<span style="background: yellow;" class="<span style="background: yellow;" class="goog-spellcheck-word">goog</span>-spellcheck-word"><span style="background: yellow;" class="goog-spellcheck-word">goog</span></span>-spellcheck-word"><span style="background: yellow;" class="<span style="background: yellow;" class="goog-spellcheck-word">goog</span>-spellcheck-word"><span style="background: yellow;" class="goog-spellcheck-word">goog</span></span></span>-spellcheck-word"><span style="background: yellow;" class="<span style="background: yellow;" class="<span style="background: yellow;" class="goog-spellcheck-word">goog</span>-spellcheck-word"><span style="background: yellow;" class="goog-spellcheck-word">goog</span></span>-spellcheck-word"><span style="background: yellow;" class="<span style="background: yellow;" class="goog-spellcheck-word">goog</span>-spellcheck-word"><span style="background: yellow;" class="goog-spellcheck-word">photobucket</span></span></span></span>.com/albums/aa339/<span style="background: yellow;" class="<span style="background: yellow;" class="<span style="background: yellow;" class="<span style="background: yellow;" class="goog-spellcheck-word">goog</span>-spellcheck-word"><span style="background: yellow;" class="goog-spellcheck-word">goog</span></span>-spellcheck-word"><span style="background: yellow;" class="<span style="background: yellow;" class="goog-spellcheck-word">goog</span>-spellcheck-word"><span style="background: yellow;" class="goog-spellcheck-word">goog</span></span></span>-spellcheck-word"><span style="background: yellow;" class="<span style="background: yellow;" class="<span style="background: yellow;" class="goog-spellcheck-word">goog</span>-spellcheck-word"><span style="background: yellow;" class="goog-spellcheck-word">goog</span></span>-spellcheck-word"><span style="background: yellow;" class="<span style="background: yellow;" class="goog-spellcheck-word">goog</span>-spellcheck-word"><span style="background: yellow;" class="goog-spellcheck-word">HomeMaidSimple</span></span></span></span>/<span style="background: yellow;" class="<span style="background: yellow;" class="<span style="background: yellow;" class="<span style="background: yellow;" class="goog-spellcheck-word">goog</span>-spellcheck-word"><span style="background: yellow;" class="goog-spellcheck-word">goog</span></span>-spellcheck-word"><span style="background: yellow;" class="<span style="background: yellow;" class="goog-spellcheck-word">goog</span>-spellcheck-word"><span style="background: yellow;" class="goog-spellcheck-word">goog</span></span></span>-spellcheck-word"><span style="background: yellow;" class="<span style="background: yellow;" class="<span style="background: yellow;" class="goog-spellcheck-word">goog</span>-spellcheck-word"><span style="background: yellow;" class="goog-spellcheck-word">goog</span></span>-spellcheck-word"><span style="background: yellow;" class="<span style="background: yellow;" class="goog-spellcheck-word">goog</span>-spellcheck-word"><span style="background: yellow;" class="goog-spellcheck-word">Foodiefridaymark</span></span></span></span>-1.<span style="background: yellow;" class="<span style="background: yellow;" class="<span style="background: yellow;" class="<span style="background: yellow;" class="goog-spellcheck-word">goog</span>-spellcheck-word"><span style="background: yellow;" class="goog-spellcheck-word">goog</span></span>-spellcheck-word"><span style="background: yellow;" class="<span style="background: yellow;" class="goog-spellcheck-word">goog</span>-spellcheck-word"><span style="background: yellow;" class="goog-spellcheck-word">goog</span></span></span>-spellcheck-word"><span style="background: yellow;" class="<span style="background: yellow;" class="<span style="background: yellow;" class="goog-spellcheck-word">goog</span>-spellcheck-word"><span style="background: yellow;" class="goog-spellcheck-word">goog</span></span>-spellcheck-word"><span style="background: yellow;" class="<span style="background: yellow;" class="goog-spellcheck-word">goog</span>-spellcheck-word"><span style="background: yellow;" class="goog-spellcheck-word">jpg</span></span></span></span>" alt="<span style="background: yellow;" class="<span style="background: yellow;" class="<span style="background: yellow;" class="<span style="background: yellow;" class="goog-spellcheck-word">goog</span>-spellcheck-word"><span style="background: yellow;" class="goog-spellcheck-word">goog</span></span>-spellcheck-word"><span style="background: yellow;" class="<span style="background: yellow;" class="goog-spellcheck-word">goog</span>-spellcheck-word"><span style="background: yellow;" class="goog-spellcheck-word">goog</span></span></span>-spellcheck-word"><span style="background: yellow;" class="<span style="background: yellow;" class="<span style="background: yellow;" class="goog-spellcheck-word">goog</span>-spellcheck-word"><span style="background: yellow;" class="goog-spellcheck-word">goog</span></span>-spellcheck-word"><span style="background: yellow;" class="<span style="background: yellow;" class="goog-spellcheck-word">goog</span>-spellcheck-word"><span style="background: yellow;" class="goog-spellcheck-word">BWS</span></span></span></span> tips button" width="125″ height="150″ /></a>
Hosted by
and
Awhile ago I went to my friends
Wildtree
Tasting Party. It was a lot of fun with some good food. We got to try a myriad of different dipping oils, with grape seed oil as the base. There is everything from natural Grapeseed oil to Hickory Smoked Grapeseed Oil.
What I truly love about Wildtree is their commitment to healthy products.
"Every Wildtree product is natural: containing no additives, preservatives, high fructose corn syrup, MSG, or food dyes."
Wildtree specializes in Grapeseed oil, but they also have many other products. My favorite is their ranch dip mix. Put that aside though, because today I'm bringing you a recent recipe we tried and loved from Wildtree.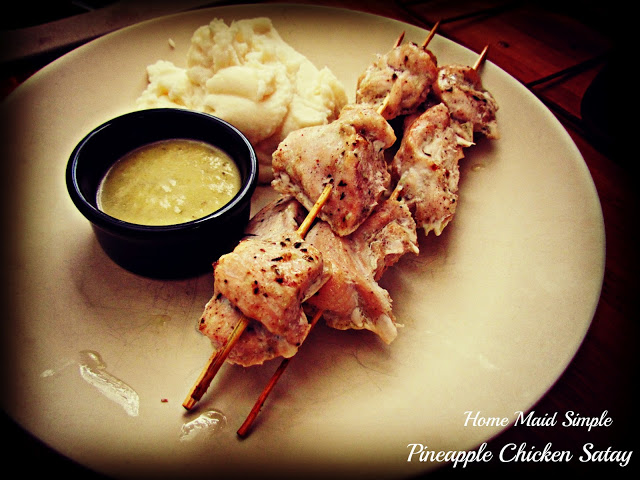 Pineapple Jerk Chicken Satay 
(I played around with Wildtree's recipe, and these are the amounts I used)
INGREDIENTS
Wooden Skewers
2 lbs boneless, skinless chicken breasts
1/2 cup Wildtree Natural Grapeseed Oil
2 TBS Jamaican Jerk Seasoning (Wildtree makes some, but I used Pampered Chefs blend)
1 Bottle Wildtree Sweet and Savory Pineapple sauce, for dipping
DIRECTIONS
Soak the skewers in water.  Preheat the oven to 375 F, or you could grill them up on the bbq! In a large bowl mix together the grapeseed oil and jerk seasoning. Cut the Chicken into 1/2 inch strips and toss into the oil mixture. Stir around until the chicken is completely coated in the oil. Thread chicken onto skewers. I fit 3-4 pieces on per skewer, it just depends on how you thread them.  Line up on a greased cookie sheet, and bake for about 30 minutes. 
Pour Pineapple sauce into single serve bowls for dipping.
Serves 5 main dishes
Here are the features from last weeks link up:
From
Michelle's Tasty Creations and Crafty Ideas
, Old Fashioned Potato Salad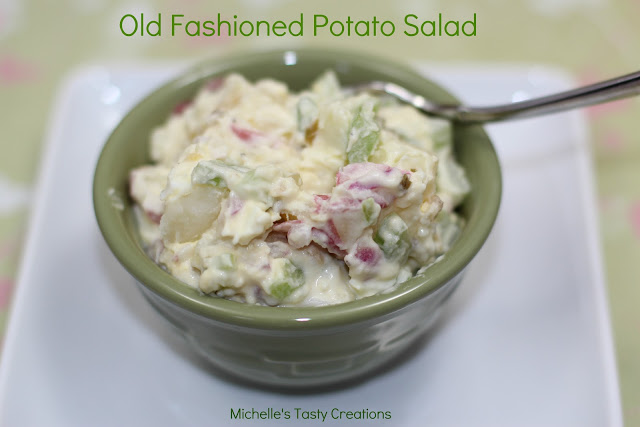 And from Becoming a
Proverbs 31 Woman
a refreshing 4th of July Dessert
document.write('