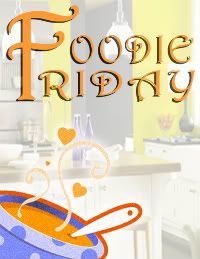 <a href="http://homemaidsimple.blogspot.com"><img src="http://i1192.photobucket.com/albums/aa339/HomeMaidSimple/Foodiefridaymark-1.jpg" alt="BWS tips button" width="125″ height="125″ /></a>
Hosted by
and
We'd love for you to join us each Friday in sharing recipes you've tried. Just grab the button, and place somewhere in your post or on your blog.
Tomorrow is St Patricks Day! Growing up it was never a huge holiday around our house. My mom would make green eggs and ham, and if we felt like it, we would wear green. Having the last name Greene, though, we usually got away with telling people we always wore the color. Since having kids though, I've really gotten into celebrating even the smallest of holidays (my college roommate also absolutely adores St Pat's day, so it grew on me too).
This year, we're even having my baby shower on saturday. So I've been playing around with some fun treats we can serve, that would be appropriate for the wee ones. My favorite is definitely the Orange Sorbet. I love cold treats, and I love fruity flavors. This recipe is just as good as store bought, and you don't need any fancy equipment or ingredients!
Pots of Gold
Ingredients
1 cup water
1/2 cup sugar
2 cups fresh orange juice (I used Minute Maid's new Pure Orange Juice)
Directions
Mix the water and sugar in a pot on the stove. Simmer for 15 minutes to make a sugar water. Remove from heat and let cool. Add the orange juice, and mix well.
Now, if you have an ice cream maker you can use that per the instructions for your machine.
BUT if you're like me, and don't have an ice cream maker, just pop your mixture in the freezer. Every 30 minutes or so, give it a good stir. After about 2-3 hours it should be a pretty good frozen state for serving. If you're going to serve it at a later date, I suggest dividing it among serving dishes, before it's completely frozen. It will look real pretty once it's completely frozen in individual serving dishes.
For the baby shower, I'm trying to come up with some kind of dish to look like pots. I may make a run to the dollar store to see what I can find.
I don't know about you, but I'm not really a Corned Beef and Cabbage person. I've tried it, and I just don't care for it. I was so happy when
Never a Dull Day in Poland
linked up a recipe for Golabki.
It's Cabbage leaves stuffed with pork, bacon, onions and rice. To me, it sounds and looks more appealing than Corned Beef and Cabbage.
Thank you for linking up

Now it's your turn! Share with us your recipes!
document.write('