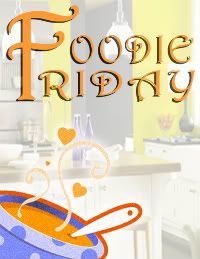 Hosted by
and
Wow! What a response we got last week! I have loved looking at all your recipes, and hope you all continue to share your kitchen goodness with us!
Miz Helen shared with us her families recipe for
Cherry Pie
. Although I'm still looking for a good recipe that uses lard in the crust, I'm excited to try out Miz Helen's pie recipe. The twisted crusts on top are just beautiful!
As part of our freezer meals I put up last week, I made a Chicken Tortilla Soup. I used
Oven Love's
recipe as my follow recipe, but made some changes to fit a more mild taste bud. Mind you one of the changes was actually pretty huge, because my pregnant brain read and interpreted the ingredient completely wrong, lol. So instead of a Chicken Tortilla Soup I give you my very own concotion of
Chili Chicken Tortilla Soup
Ingredients
olive oil
1 yellow onion, chopped
2 clove garlic (I used a jar of minced garlic)
2 tsp chopped fresh cilantro
1 can tomato with onion and roasted garlic
1 can mild chili*
1 tsp ground cumin
4 cups chicken stock
1 boneless skinless chicken breast (1/2 lb), cooked and cut into bite size pieces
salt and pepper to taste
*Oven Love's recipe called for a can of chili in adobo sauce. Big difference between that and a can of chili soup, lol. Got to love mindless cooking!
Directions
Heat 1 tbs olive oil in frying pan over medium. Add onion, garlic and 2 tsp cilantro. Saute until golden, about 10 minutes. Combine onion mixture, tomatoes and chili in a food blender until smooth.
In the same frying pan, heat another tablespoon oil. Add the tomato mixture and cumin. Cook until thickened and darkened, 5-6 minutes.
Transfer the mixture to a large pot over medium heat and add chicken stock. Cover and simmer, stirring occasionally, until soup is slightly thickened, about 15-20 minutes. Add the cooked chicken and stir until warmed through, about 2 minutes. Season with salt and pepper.
To freeze, place your pot directly in the freezer to let it cool down a bit. 10-20 minutes. Then you can either pour it into a large freezer bag, or smaller container with an air tight lid.
To reheat, remove from freezer, dump it back into a pot, and heat through. I used a crock pot, but it kept the soup from really thickening up, so I would suggest using the stove top if you want a thicker soup.
Let's see what you've got cooking! Link up your recipes below.
Go ahead and add up to 3 links that you haven't shared with us before.
Please link directly to the recipe post, not your homepage.
And we'd love if you grabbed the button (at the top of the post). It will be smaller when you paste the code on your blog so it fits in the side bar (see my sidebar for actual size).