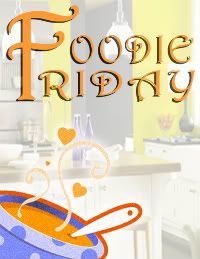 Hosted by
and
1 1/3 cups warm water
1/4 cup dry milk
1/2 tsp salt
4 cups flour
1 TBS sugar
1 pkg dry yeast
2 TBS vegetable oil (or olive oil works well too)
9 oz vegetable oil
pam spray
Directions
Combine yeast, sugar, salt and dry milk in a large bowl. Add water and mix well. Allow to sit for a few minutes. Add 2 TBS oil and stir. Add flour and stir until flour is absorbed.
Knead dough for about 10 minutes. Divide into 3 balls.
In 3 cake pans divide 9oz oil (I just eyeball it to cover the bottom of the pans). Roll dough into circles and place in the pans. Spray with pam, cover and let rise for about an hour. We've found we like it better the less we let it rise.
Top with pizza sauce, mozzarella, and toppings of your choice. We usually stick to pepperoni, or just plain cheese.
Bake at 475 F for about 10-15 minutes, or until cheese is melted and crust is lightly brown.
Thanks for another GREAT link up last week. These were some of my favorites ~
When I see Chicken Cordon Bleu anything, my attention is grabbed, and I know I'll be trying it out. From
Love Bakes Good Cakes
Chicken Cordon Bleu Stromboli
Crystal and Co.
shared these Strawberry Shortcake Kabobs. The perfect summer treat!
From
Delectable Musings
, my chidhood is again reawakened with this Strawberry Rhubarb Jam. I have many memories of dipping raw rhubarb into sugar for a snack, and also making my first strawberry rhubarb pie.

If you were featured go ahead and grab this button