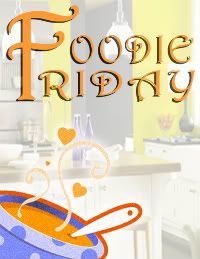 Hosted by
and
When we bought our current home, we were lucky to find a great realtor! It's been over a year since we bought this home, and every month we get a newsletter from our agent. They contain fun random facts, information on home upkeep, and usually a recipe. I just got July's newsletter, and decided I had to make this months recipe. It couldn't wait! I didn't have the same ingredients, so like always I improvised and used what I had on hand.
Crust
2 cups flour
1/2 cup brown sugar
2 sticks butter
Soften the butter and mix all the ingredients together. Press into a 9x13 pan. Bake at 350 F for 15 minutes, or until just lightly golden brown. Let cool. Crumble the crust. If you wish to make small servings crumble the crust into 8 10 oz bowls. Otherwise just keep it in the 9x13 pan. Reserve about 1/2 cup for topping
Filling
16 oz cream cheese
2 cups powdered sugar
1 tsp vanilla (I prefer
Rodelle
brand)
1 tub whipped topping
Soften the Cream Cheese. MIx in the powdered sugar until creamy. Add vanilla and whipped topping and mix well. Pour over crumbled crust.
Cherry Topping
1 cup water
1 cup sugar (divided)
12 oz Frozen Sweet Dark Cherries
3 Tbs cornstarch
2 Tbs Black Cherry gelatin
Mix all but 1/2 cup sugar in a medium saucepan. Bring to a full boil, and let boil 1-2 minutes. Stir continuously or it will scorch the bottom! Turn off the heat, and add remaining 1/2 cup sugar. Let cool, and it will thicken. Once cooled, pour on top of the filling. Top off with more crumbled crust. Refridgerate until ready to serve. Then Enjoy!
Features from Last weeks link up -