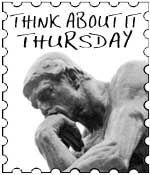 Welcome to the first ever Think About it Thursday!
Your hosts for this weekly meme are
Each week on Thursday's we will be discussing a different thought provoking topic. We would love for anyone to join with us. We will give out a pre-chosen topic a week in advance that you are welcome to blog about. BUT don't feel you have to stick to that topic. Anything that's on your mind that you want to share is welcome! We just offer the topic for those weeks where your mind is blank.
Alright with that out of the way, here is this weeks topic!
Children sharing a room Vs. Having their own room
Next week's topic - What things/topics are too serious to be joked about?
This has been on my mind for a bit now. I don't remember how long ago it was now, but within the last year, we put Princess V (our oldest) in her own room. We felt it would make bedtime smoother. So far it has actually worked pretty well. The younger two girls still share their own room, and of course Prince L has his own room. I like the set up. When we first decided to put Princess V in her own room, Mark wanted to put one Princess C in her own room, and keep Princess V with Princess R. It was really a hard decision. We ended going with Princess V because as the oldest we can trust her to go to sleep on her own, while we help the others.
Why not Princess C? Because I know she would get scared frequently, and we would have to still help her fall asleep.
Why not Princess R? We've been there done that, and we still end up needing one adult in each room to keep the kids settled down and in bed.
So we went with Princess V, and really it has made for some better nights. Princess V can put herself to bed with a hug and kiss from us, then I can take care of getting Prince L in bed while Mark reads to the other 2 or sings to them with the ukulele.
What about sharing a room? Personally I love the idea of kids sharing a room. I think it teaches them how to share a space, but still be their own person. I actually grew up sharing not only a room with my 2 sisters, but for awhile my sister just younger than me, and I shared a queen bed. Eventually I got my own bed, and my younger 2 sisters shared the queen. It wasn't until I was in high school and a senior that I actually got my own room. My very first room all to myself, was in the laundry room! There were some nights my mom had to do laundry late, and I just had to sleep with the dryer pounding away. I missed my sisters, but it also felt freeing to have my own room. I could keep the light on and read as long as I wanted without bothering anyone else. I could set an alarm and not worry it would wake anyone else.
So should kids share a room, or have separate rooms? Why is this really on my mind right now? Well, as we look for a new job for Mark, we also have to look for a new house. Mark would love for all the kids to have their own room. I think they should share. It's just good for them and creating a lasting bond as siblings. If we happen to buy a house with enough rooms for each to have their own, well I wouldn't oppose it. Having a room to go to for quiet, and "alone time" as we call it, could be nice. The problem we're running into right now though, is Princess V will often slam her door shut and yell at her sisters to get out of her room. I feel she has become too detached from her sisters, and she's only 5! So even if we get a house with that many rooms, I may still have them share for awhile (and then I'll get a craft room!), just for the sake of learning to bond and work things out.
I would really just love to have some awesome bunk beds like these too:
Now it's your turn! We'd love to hear your opinion on the topic, or anything else! Below are the rules for this linky.
The ground rules:
1) No Giveaways or reviews please, we want to stick to our topic or whatever thought provoking topic you have decided on your own. We want to get to know you personally not what you like or give out right?
2) Make sure that you follow all the hosts! (Mumfection, Home Maid Simple, Tim and Angi's). Pop in and let them know you're following via GFC and/or Facebook (or whatever your following method is).
3) Only thought provoking posts, which is why we always have a great topic for you prepared in case you are just having a blank day.
4) Make sure your post has our Think About it Thursday button!
5) Have fun, make some friends, follow, comment thoughtfully and above all else be respectful!
6) Lastly, we would love it if you suggest some topics for us to discuss! Who knows if we pick your topic, we may feature your blog!