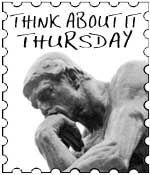 Hosted by
What do you love/hate about your kitchen?
I'm trying very hard to focus on the positives. I believe life just turns out better when you do that.
But there is a big Don't Do EVER I just have to share with you.
Carpet in the kitchen.
I don't think this should ever occur in any kitchen.
Why? The kitchen in most homes is a major gathering place. You cook and eat your meals here. You hang out as a family, playing games around the dinner table. To keep a carpet clean in a kitchen is extremely difficult. It requires daily vacuuming, and extremely careful cooking.
At one point in time there was some kind of grease spill in this kitchen. The corner by the oven is very sticky, and uncleanable. It makes me sad, really.
So please, do everyone a favor, and do not put carpet in your kitchen. Small area rugs are fine, not something I would do, but easier to care for then full on carpet. As a side note, this rule applies to bathrooms as well. Trust me, you do not want to clean carpet in the bathroom when the toilet overflows. blech.
To end positively, I do love these old cabinets! They're deep, and they hold a lot! I've got the perfect amount of drawers, which I've always found lacking in other homes.
Now it's your turn! Tell us what you love or hate about your kitchen. Do you agree with no carpet in the kitchen? Or just let us know what's on your mind today. Link up your posts below.
The ground rules:
No Giveaways or reviews please, we want to stick to our topic or whatever thought provoking topic you have decided on your own. We want to get to know you personally not what you like or give out right?
Make sure that you follow all the hosts via GFC and/or Facebook! (

Mumfection

,

Home Maid Simple

,

Tim and Angi's

)
Only thought provoking posts, which is why we always have a great topic for you prepared in case you are just having a blank day.
Make sure your post has our Think About it Thursday button!
Have fun, make some friends, follow, comment thoughtfully and above all else be respectful! Don't forget to let people know which hop your visiting from!
Suggest a topic, this is not mandatory, but we would love your input and we will definitely consider it for future meme's!! If your topic is chosen you could end up receiving an e-mail giving you a chance to be one of the co-host's!!!