We may earn money from the companies or products mentioned in this post.
This epic mess has been compensated by Collective Bias, Inc. and its advertiser. All opinions are mine alone. #EurekaPower #CollectiveBias
I really like getting to know my readers, and I do hope you like getting to know me too! Otherwise, you wouldn't be here right? So a few things you really should know about me – I LOVE cooking and baking. I LOVE spending time with my kids. I really like putting the two together. Unfortunately that usually causes something I don't like. Cleaning. Who does though right? I like to have things
clean
, but try hard to do it quickly and effectively. That way I have more time to do the things I love.
When we moved my beloved
Eureka Vacuum
was not packed carefully. That was OK though, because what did I find at Walmart? A newer upgraded Eureka on Rollback of course. I seriously won't buy any other vacuum at this point – I'm a Eureka girl through and through because the quality and price can not be matched in my opinion.
So this one day, I decide we're going to make bread. Not only that, we're going to make bread like my mom made bread! She was the queen of entertaining lots of kids in the kitchen. How she kept her sanity, I will never know, since she did not own a eureka to clean up our messes. Perhaps my siblings and I were a little less indulgent in the mess making though?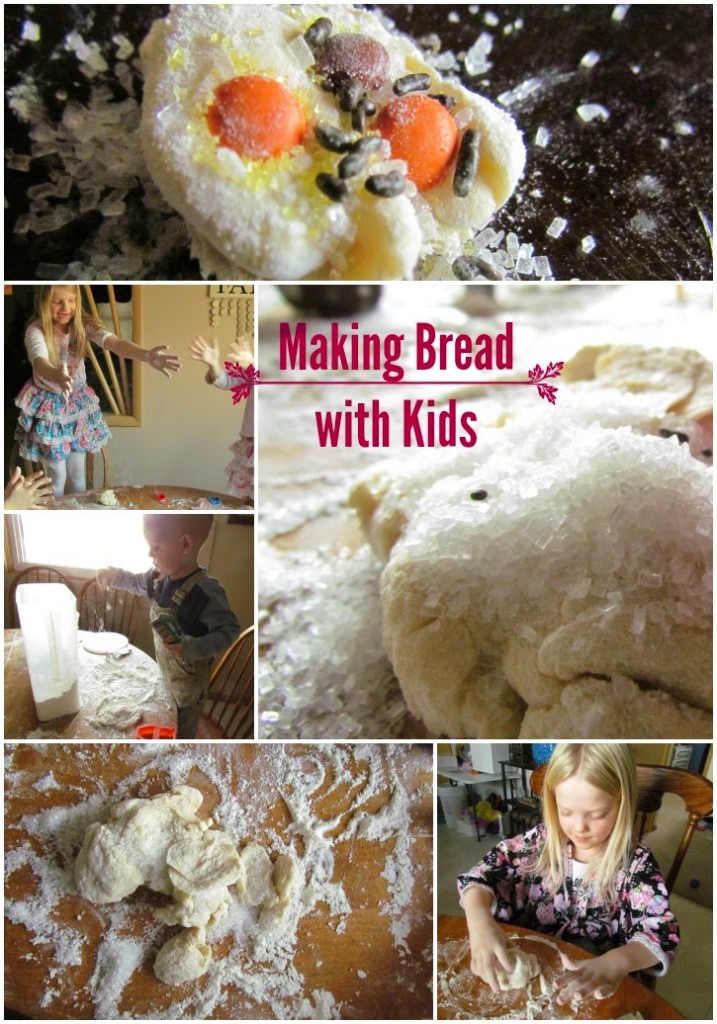 I remember my mom giving us all a bowl of flour, a handful of dough, and chocolate chips to decorate our dough creations with. I recall adding pepperoni at times too. When I decided to do this with my kids over the weekend, it was mostly because I did not feel good, and I needed them to be entertained. I of course didn't have any chocolate chips on hand, so grabbed them some items from the baking cupboard – reeses pieces, sprinkles, and jimmies.
See I even thought I was doing good giving them a tiny portion of chocolate to either work into their dough, or eat as they saw fit. My kids though, they just went WILD! I may have forgot to take the bucket of flour off the table while grabbing the other treats though – in which case I can only blame myself for what occurred next.
Truly a sight to make any homemaker with a pounding headache cry. In the past, I probably would have. This time I didn't, because I had my brand new weapon! The Eureka Suction Seal 2.0. Once I put the kids bread creations in the oven, I began clean up, and let me tell you – 20 minutes total to get this disaster zone back to spic and span! Let me show what I did.
First – Do NOT, and I repeat, DO NOT let those kids leave the kitchen yet! They are covered in flour, and if you turn your back for a minute they may make it all the way into your bed where they will leave more traces of flour. Grab your Eureka turn the dial from floor to tools, add the brush attachment (not the upholstery attachment..unless the uh, previous scenario happened…). Now line your kids up and give them a "hose" down.
Phew, you can now safely send the kids out of the room. Unless you'd like to teach them to clean – I will warn you though, that can often lead to a bigger mess when it involves flour and candy. Now that we've got the kids entertained elsewhere, keep the tools going, and head to the table. You can continue to use the brush attachment. I prefer to because the bristles help penetrate the cracks where the leaf's of my table attach.
When I clean I like to start at the top and work my way down. From the table top, I move onto the chairs. Again the hose attachment does wonders on the chairs, getting around all the bars, and even down the legs of the chairs and table.
Finally, onto the floor! A quick switch from tools to floor, turn the floor brush back on, and we're almost done! I love love love the suction seal on this vacuum – they ensure that the flour is being completely picked up, and not just scattered around the floor. If there's one thing I hate more than cleaning, it's cleaning only to find I missed spots all over because my tools didn't do their job. I don't have to worry about that with the Eureka. When it cleans, it really is clean.
Once you're finished vacuuming the floor, you're almost done! The last step is so simple though! Just grab a damp towel and wipe over the table and chairs. You know you'd never use a wet towel on flour before, but with how well you've just cleaned up with you vacuum, a slightly damp towel gives your kitchen the finishing touch to be sparkling clean.
Don't forget to put your vacuum away. I may later regret it, but for the time being I'm really enjoying just how fascinated Little Prince is with the vacuum rewind. I think it may be one of the best additions to a vacuum I've ever seen! No more crazy tangled cord messes.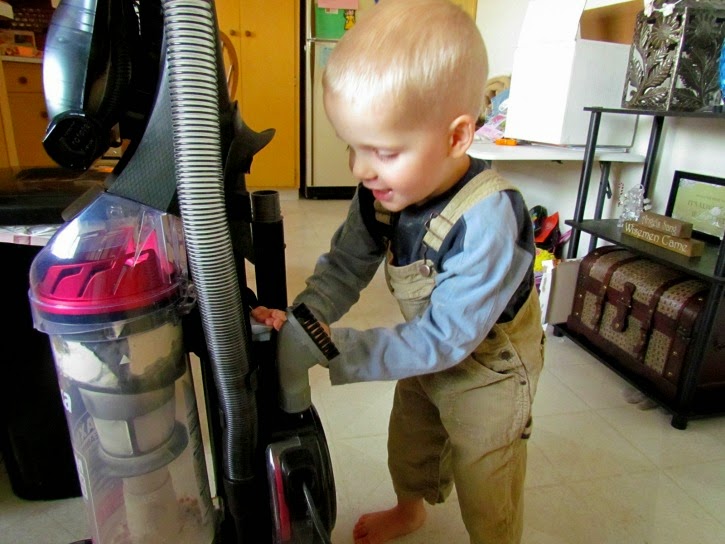 Have an Epic Mess?
Tell me about it below, then watch this video to see how easy it is to clean up!