We may earn money from the companies or products mentioned in this post.
*This is a sponsored post. All opinions are my own*
School is coming up just way too fast, don't you think? I've already seen a number of my friends posting "First day of school" photos. Turns out they have year round school, but it was still just another reminder that in less than a month, we will be doing the same.
It got me thinking, we see back to school supply lists everywhere. Teachers give them out, websites list them – but what you don't see is a list of the extras! The things you might not need all year long, but find yourself running around town trying to find last minute.
So I decided it's time we put one together! Last year was my first year as a mom with school aged children. Luckily for me we live fairly close to an amazing school supply store –
Utah Idaho School Supply
. Even though it says Utah Idaho, they have an online store, so you can still get everything you need from them!
1. Tri-fold Poster Board. This was the #1 item I found myself scrambling for. I'm so glad I did though, when both our daughters came home with 3rd Place for their grade in the Science Fair.
2.
A Globe, or large wall map
. Seriously, this might just be me, but I think maps are cool. I truly think that kids will get more interested in geography if they've got a globe to spin and look at. Utah Idaho has a myriad of different globes from inflatables to a Celestial Wonder.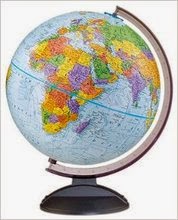 3.
Bookmarks
. Especially if you've got older kids reading chapter books, you'll want to stock up on these. I personally love these
blank bookmarks
that the kids can personalize for themselves. It would make an awesome after school activity.
4. Whiteboard. This is totally and completely just a want. We had one growing up and it was the coolest ever. My mom would leave quotes on it for us to memorize, and we'd use it for everything from math homework to drawing practice.
5.
Storage Bags
. I just, like just now while browsing saw these bags and I love them! I don't even want to start thinking about all the papers that are going to be coming home with the kids this year. With a couple of these I can keep them organized by subject matter, homework, and special awards.
What's on your back to school WANT list?