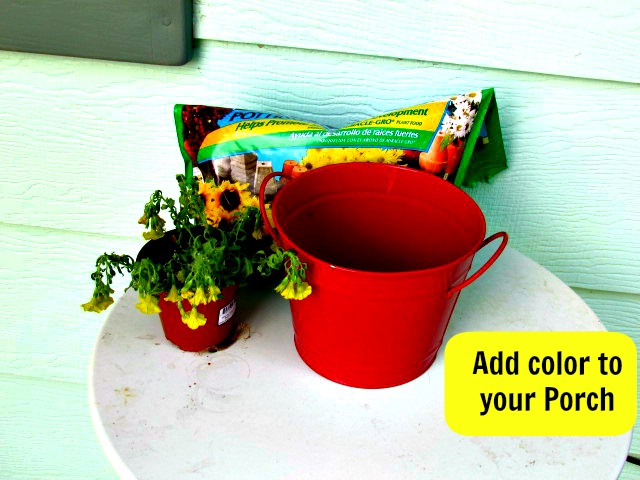 We may earn money from the companies or products mentioned in this post.
This is a Sponsored post written by me on behalf of Miracle-Gro. All opinions are 100% mine.
I love spring time! All the flowers begin blooming, and the world becomes a more colorful place. Every spring, though, I look at my front porch and feel blah. There's not much color besides the door (a dull green), and it doesn't feel all that inviting. This year, I decided to remedy that. After planting my vegetable garden, the porch has become my top priority! I need a little cheerful color greeting me as I leave and come back to the house each day.
The great part is that it's really easy to add some color, and it doesn't have to be expensive either. I used what I had on hand, along with some flowers I received for Mothers Day to put together this bright little piece for my porch.
First gather your supplies. You'll need the following:
A colorful bucket
flowers, or flower seeds
Moisture Control Potting Mix
a little backyard dirt
Next fill your bucket halfway with the Potting Mix. If you are repotting flowers make a small well and transfer the flowers to your bucket. Top off with a little more potting mix, and some backyard dirt. Water the flowers, then sit back and enjoy your little splash of color.

Don't worry if the flowers are looking a little wilted when first planted. With Miracle Gro's potting soil, a little sun wand water, and the flowers will perk right back up.
For more fun garden projects, visit Miracle Gro's Pinterest page. Then get out and grow something!