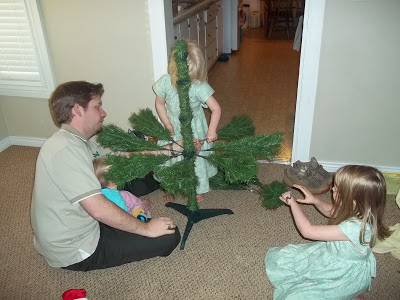 We may earn money from the companies or products mentioned in this post.
Growing up we had this really fun advent calendar. It was an embroidered Christmas Tree Wall hanging. Days 1-25 were on the tree, with a place to tie a candy cane. Each day we took turns untieing a candy cane and counting down the days to Christmas.
The past few years, we have done something similar. We have a wooden calendar with doors that open, for each day from December 1st until the 25th. In the past we have put little candies, or toys inside for the Princesses to enjoy. This year, we decided to change it up. Instead of items, each day has an activity inside. We want to get back to the Spirit of Christmas, to remember why we celebrate, and to make some family memories. Already this year, I have seen a difference in everyone's attitude's. We are less concerned about when we can go shopping, and are smiling and laughing more as we spend time together.
I know it's already December 3rd, so here's a quick picture catchup of our first 2 activities.
December 1st – Put up the Christmas Tree, and decorate.
We don't have every day set yet, but we do have many ideas of what we'd like to do. So here's a little run down for anyone interested in some fun family activities this Christmas season.
-Attend concerts. For us this is easy with Mark being the band director of two local bands. We'll be enjoying some Christmas music from the community band on the 8th, and from the High School band on the 15th.
– Bake. We plan on doing a lot of baking this month. But we will have one specific night set aside to bake things for our neighbors, and one night to make cookies for Santa. I also found these really cute "cookies" to make for Santa's elfs – mini donuts out of cheerios!
– Sinterklaas. This is a tradition from my childhood. My dad served an LDS mission to The Netherlands, and incorporated this into one of our celebrations. It is the Dutch equivalent to Christmas. Sinterklaas comes on the night of December 4th, and leaves a gift in the children's shoes. Instead of cookies, the kids put carrots or hay in their shoes and a bowl of water for Sinterklaas' horse. This will be the first year our family will celebrate, and I am so excited for it!!
– Look at lights. We'll be heading down to Salt Lake City one night to walk around Temple Square and see the lights there. Another night we'll be going up to Ogden's Christmas Village.
– Tonight we are having a pizza party and watching The Polar Express. We'll probably do something similar a couple more nights, but with different Christmas movies.
– Read Christmas stories. There are so many children's books you can read with your kids that have a focus on Christmas. Check out your library, or bookstore to add some to your collection!
– Christmas Caroling. We've been teaching the Princesses "We wish you a merry Christmas", and they are very excited to go caroling to our neighbors.
– Find a yule log. I've never done this before, but a friend of mine does! This is our first year with a fireplace, so I want to take the family out to the mountains one day and search for a yule log. It sounds like so much fun!
These are just some of my ideas. I'd love to hear some of the things your family does to celebrate the Christmas Season.