We may earn money from the companies or products mentioned in this post.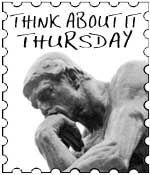 Your hosts for this weekly meme are
I'm so sorry about the lack of last week's post. We were having internet problems with the move. So welcome back to Think About it Thursday. A weekly meme to let our thoughts spill out. Use the suggested topic, or write about whatever you want. Then link up your post in the linky at the bottom of this page.
This week's suggested Topic
Back To School
I don't have much to say on this really. I'm nervous and excited. I almost feel like a kid again, ready for the new year, but nervous about making friends. Only this time it's for my kids. Our oldest is starting Kindergarten this year. While the second will be in preschool.
For the longest time I was baffled hearing about mom's crying when their kids started school. I just didn't get it. When Princess V went to preschool last year, I was so excited for her! This year is different though. I don't know why. Maybe my emotions are finally in check. She's starting Kindergarten, and I do kind of want to cry. My baby is growing up and going to school. She's going to make lots of friends, and learn so much. Before I know it, she'll want to spend more time with her friends than with me and her sisters. She'll want to do her own hair, and pick out her own clothes (ok, she already does that, but I still have a little say). Today she has a Kindergarten test. Every other grade has begun school, but they test the kindergarteners individually the first couple days, and won't actually start class until next week. Today is Princess V's appointment. She has been so excited, and I've been so nervous. I think she's right on track, but I know we could have focused more on numbers over the summer. Isn't she cute though? Grandma P took her school clothes shopping while they were visiting. I've kept all the clothes in a bag waiting for this day. So first thing this morning she and I pulled out the school clothes. Isn't she a doll?
Now it's time for Princess C to go to preschool. If we hadn't moved, she had made it into the same preschool Princess V went to last year. But we moved. They have a district preschool, but it's focused mostly on kids who are behind. Princess C knows just about as much as Princess V so I don't think she's behind. They've put her on a waiting list though. They like having kids who are on track to be role models for those behind. If she can get in, great, but I'm looking elsewhere. Mark has found an in home preschool that sounds like it has potential, I just haven't gotten the number from him yet. I'm also considering just doing home preschool with her. I know she really needs the social aspect of being with other kids though. She has a ton of energy, and I can't always keep up with her. She is my social bug.
My mom taught me preschool and kindergarten at home. I didn't go to public school until first grade. When we first had kids that was my plan. I saw no need for preschool and kindergarten outside of the home. My tune has changed though. My kids love being around other kids. They love learning. Plus by going elsewhere to school I am able to give more focused time to the smaller kids. Having 4 kids so close in age sometimes makes it very difficult to give each one the individual time they need. When the older two get home from school I'll be able to focus some time on just them. While they are at school, I plan on having some fun activities for Princess R and Prince L. We'll go grab a hot cocoa at the Hot Spot, hang out at the library, and do our own crafts together.
I later found out my mom kept me home until 1st grade because there was no preschool or kindergarten to send me to. She did what she did out of neccessity. If it comes to it, I will do home preschool, but if we can I know Princess C will really thrive with someone else in a social atmosphere.