We may earn money from the companies or products mentioned in this post.
I just love the way our basement is looking! We got the painting done over the weekend, and then yesterday the old vinyl was pulled up.
Sadly, the color is not exactly what we chose. We were going for this color called serenity, but to save a little money, we had the paint guys at Lowe's try and create the same color in a cheaper bucket of paint. The result, a minty green, instead of calming green/blue. Awe well, the things we learn.
spot for stacked washer and dryer
There has been a downside to our basement remodel. I am so excited with how it is looking, but with the many different processes, we had to remove our washer and dryer. Which left us no way to wash clothes last week, or this week. So what did I do? I recalled our ancestors, and I filled the sink with hot soapy water and kids clothes.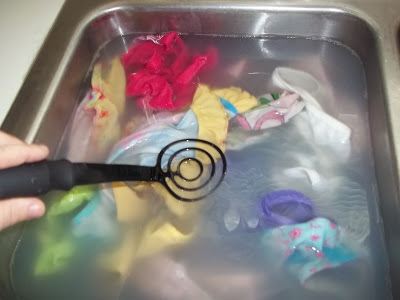 Using my Pampered Chef Mix and Stir, I felt I got an adequate agitation going on. So I let them soak, agitated them, soak some more, and agitated more. Then I used the other sink to rinse them. Rinsing was probably the hardest part. "Was I getting all the soap out?" was a constant question in my head. This morning though, after drying all night in the bathroom, I think I must have adequately done it. The clothes smelled nice, and were good and stiff.
Thankfully a good friend (whose basement also flooded this summer) saw my plight on facebook, and picked up a load of clothes for me today. I am so very grateful to her, and I'm sure my kids will be too, when they have clean clothes again!