We may earn money from the companies or products mentioned in this post.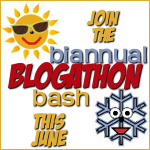 This weekend I'm taking part in a Blogathon Bash. All weekend long a bunch of bloggers are taking time to focus on their blogs big time. Working on new posts, cleaning up blog designs, and promoting posts through social media outlets.
Here at Home Maid Simple, I'm going to focus on writing many posts and scheduling them out. This will give me more time to play with my kids, as the blog takes care of itself posting.
I will also be taking part in the mini challenges on the Blogathon blog. I've browsed through some of the challenges already, and I think I'm going to learn a lot about blogging, and making this a better place for you my readers!
During this event (and always really) I would love any tips, ideas from you all on what you'd like to see here at Home Maid Simple. Why do you visit this blog? What do you like reading about? Are there any posts you'd like to see? What can I do to keep you coming back?
You can contact me at familyroom2@gmail.com
or follow me on facebook or twitter