We may earn money from the companies or products mentioned in this post.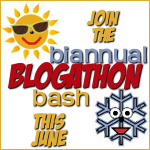 Wow! What a wild and crazy blogging weekend! I am so glad I participated in this blogathon. I got so much work done behind stage here at Home Maid Simple! I got some personal goals accomplished, like weeding through all my emails, organizing my schedule, writing up some rough drafts, brainstorming post ideas, and scheduling out some posts so I can spend more time with the family.
My favorite part of this blogathon though is how much I learned!! I sure hope you guys are ready for some awesome posts. Through the Mini Challenges I've now learned so much. My favorites that I'll be using constantly though are these
– Printable Recipes! Now you'll be able to print out Foodie Friday's recipes.
– Photo Collages! I have wanted to figure this out for awhile, but had no idea where to start. Turns out it was really easy. Check out Picmonkey.com. No more huge pictures all in a line. Yay!
– Favicon. Ok this doesn't benefit you guys so much, but I just think it's cool. Look up at your browser tabs. See my cool new symbol? It's the maid's head. So now you can always get back to me when you go browsing elsewhere. Cool right? Ok maybe not for you, but I feel awesome.
Normally I take weekends off from blogging, but I'm glad I put a little more focus into it this weekend. I'll be using many of the things I learned to make Home Maid Simple a better experience for you my readers. I spent approximately 10 hours this weekend blogging, learning, and having fun with my fellow blogathon participants. You guys rock!!