We may earn money from the companies or products mentioned in this post.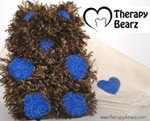 I am so excited to be featuring
TherapyBearz
today on Home Maid Simple! They make some wonderful soothing products, sure to help anyone relax in style!
Let's start with a few questions I asked the owner of TherapyBearz
BME:What is your name?
Annie Byington

BME: Tell us a little about yourself
I was born and raised in Utah as the youngest of five children. I have been married for 7 years now to my sweet, supportive husband and we have three beautiful children. I like to do a wide variety of things from baking and sewing to fly-fishing and riding mini bikes with my family. My favorite color depends on what mood I'm in and I love anything chocolate.

BME: How did you get started?
I started to sew, and do many other crafts, at a very early age. I remember watching my mother's hands as she worked on countless items and trying to mimic the motion. I first thought of Therapy Bearz when I was looking for something to help my young son stay in his own bed at night instead of coming into mine. I wanted something warm he could snuggle up to but I didn't like that the commercial bears weren't machine washable. I knew I could come up with a better design. I ended up making a bear for each of my children and they still sleep with them every night. People began commenting on how great they were and I started making them for others. What started as a simple craft for my children has now become my own small business.
BME: Do you have a favorite product?
I know everyone probably feels the same way, but I love ALL of my products. If I were to go relax right now however, I might warm up my pillow and add a little Tangerine and Chamomile and use my hand mitts to warm my hands on this cold, dreary day.
BME: What motivates you?
If I am being completely honest, I have to admit that at first it was knowing that any thing I sold would be a little extra money. Now however, I find myself excited to see every finished product. I love finding new fabrics and watching a project come together. I am sure my husband laughs at me every time he comes home and hears me say, "Do you want to see what I made today?!" I am also adding a "featured friend" section to my blog and webpage that will tell which charity I am currently donating to. My goal is to bring high quality handmade products to people while helping others. I am looking for charities and local friends in need to contribute to. I'm excited to know that I can make even a small difference in a person's life.
BME: What is your decorating style?
I love simple, clean, timeless pieces. My favorite shelf in my home contains three willow tree figurines, two simple handmade clay vases, a small clock and a doily tatted by my mother.
BME: Do you prefer indoors or outdoors?
I have so many things I like to do that I enjoy both. I do spend a great deal of time outside when it is warm enough. But I prefer to stay inside if it is cold.
BME: What's your favorite season?
My favorite time of the year is the end of spring and the beginning of summer. I love it when the temperature is warm but not hot and all the flowers, trees, and plants are coming into bloom. The new life fills me with excitement and energy. For me, this is when the year really starts.
BME: Do you listen to music while you work? What is your favorite genre?
I usually listen to my three year old while I work. She is always telling me stories. If I am lucky enough that she lies down however, I do enjoy listening to audio books or music. I honestly don't know what genre of music is my favorite. I tend to lean toward a genre that mimics my mood at the time.

BME: What scent helps you relax the most?
I personally love the smell of any citrus oil. Tangerine, orange, neroli, grapefruit, they all smell clean and refreshing. I can't help but smile and let out a big sigh when I smell them
Thank you so much Annie! Those hand mitts sound really nice right about now. I can't seem to get my fingers warm enough to type right, lol. Annie was kind enough to send us a
Aromatherapy Bear named Daisy
and a
pack of 3 essential oils
to review. These bears are so adorable!! My first thought on opening the package was "Cute!" which was quickly followed by cuddling the bear next to my cheek and saying "oooh, it's so soft!". Daisy has a velcro back with a removable heating pad inside. After warming up the pad, you can add some essential oils for different scents.
My original thought was to trade it off between girls every night, but my 3yo Princess took a strong liking to it the first night. Now every night before bed, she asks for her bear. Then we tuck the bear in next to her, and she is content. Daisy has been such a wonderful comfort and I believe has really helped ease the transition from apartment to home for Princess C. Despite the face she is making in this photo, she really loves Daisy. I was trying to get her to give Daisy a hug, but she wanted her tucked in the blanket next to her. Awe well, what can you do with kids right?
*I received an aromatherapy bear to keep and use. I was in no way financially compensated for this post. All opinions expressed are my own.