We may earn money from the companies or products mentioned in this post.
Add these Reindeer Tags to a fun treat like Candy Cane Reindeer on Christmas Eve, and watch your kids light up with the Christmas magic as they find a treat left by Santa's Reindeer.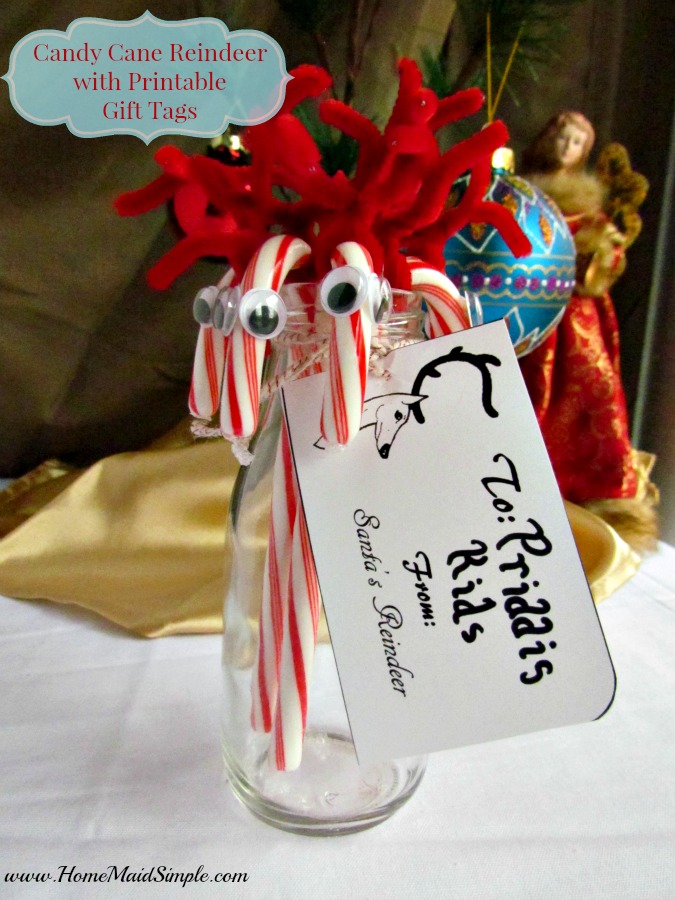 Last year it was a few nights before Christmas eve when I had the fun thought to leave treats in the kid's stockings from Santa's Reindeer. It was a last minute thing, and while fun to do, I wasn't able to take pictures that truly showed how fun it was. This year I gave myself a bit more time to get it together, and as I thought about it I knew I had to get my sister involved! So I called her up and asked if she would design some Reindeer Tags for my Candy Cane Reindeer.
Didn't she do a fabulous job? I play at art sometimes, but my sister is a true artist. She whipped this drawing out a day after we talked. I love how proud the Reindeer looks, I pretend because he knows what an important job he has pulling Santa's sleigh.
Having just the 3-year-old at home these days meant I could actually make the Reindeer and take the pictures with him hanging around. After all, he can't read yet and was fairly entertained with the extra Candy Canes I passed his way (he made a full garage out of them to park all his cars). So I spent my afternoon making some cute reindeer to attach the beautiful tags my dear sister made, and which you can purchase a download of from her Etsy store AlgaeArtandCrafts.
All you need to make Candy Cane Reindeer are Candy Canes, googly eyes, pipe cleaners and a little hot glue. I'll let the pictures do the rest of the talking here. A little ribbon is all you need to add the touch of the gift tag.
I saw this really cute idea over on A Day In Motherhood for Reindeer Food. You could leave it out with the milk and cookies for Santa, in hopes for the Reindeer to leave a little goodie. Or you could make Reindeer Chow Muddy Buddies found on This Silly Girl's Life. While these are great for the kids to help make on Christmas Eve, you may want to check some of these other Reindeer ideas out to leave for the kids attached with the Reindeer Tags.
Reindeer Noses from The Thankful House
Reindeer Candy Cane Pudding Cups from Snack Pack
Reindeer Chuppa Chups from Brisbane Kids
Nutter Butter Reindeer from Cook Crave Inspire
Reindeer Hot Chocolate from Thrifty Jinxy
Gingerbread Reindeer Cookies from Jelly Bean Trail
If you're not into leaving more treats, because we all know the sugar overload will be ever present already, Santa's Reindeer could also leave a fun game or hat to wear. Like this Rolla-Reindeer from Seven Thirty Three or this simple Reindeer Hat from Education.com.