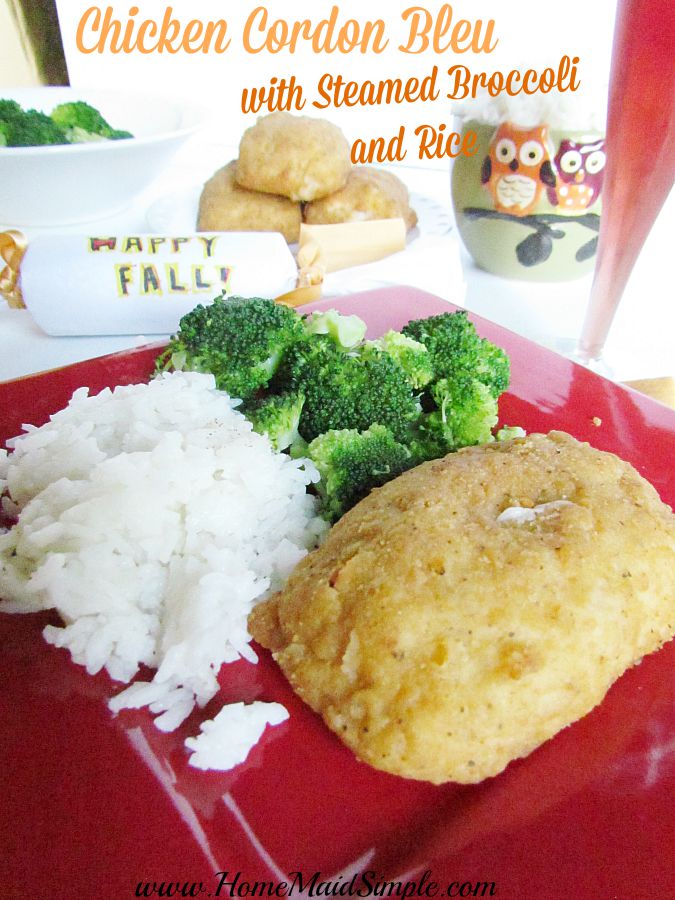 We may earn money from the companies or products mentioned in this post.
This shop has been compensated by Collective Bias, Inc. and its advertiser. All opinions are mine alone. #SimplySpecialMeals #CollectiveBias
Anyone with picky kids understands the struggle of finding a meal everyone will eat without complaining. So when I say I was shouting with joy and telling everyone about our meal last week that every single one of my kids ate without complaint, you'll understand. It was also one of the simplest meals we've had in awhile. Chicken Cordon Bleu, steamed broccoli, and S&P Rice.
Growing up I always looked forward to New Years Eve because it meant eating my Aunt's homemade Chicken Cordon Bleu. I was in love with that dish, and often wondered why she didn't make it more often. Her response was that it's time consuming, and difficult, so only for a special occasion – namely New Years Eve.
I've made her recipe a handful of times myself now, and yeah, while I love it, it's not a regular from scratch meal. I saw Barber Foods at Kroger, and noticed they had new packaging with a brand new recipe for their stuffed chickens. It was almost the first day of fall, so I thought to myself
Adelina – Get your favorite dish and throw a party for the kids. You deserve it!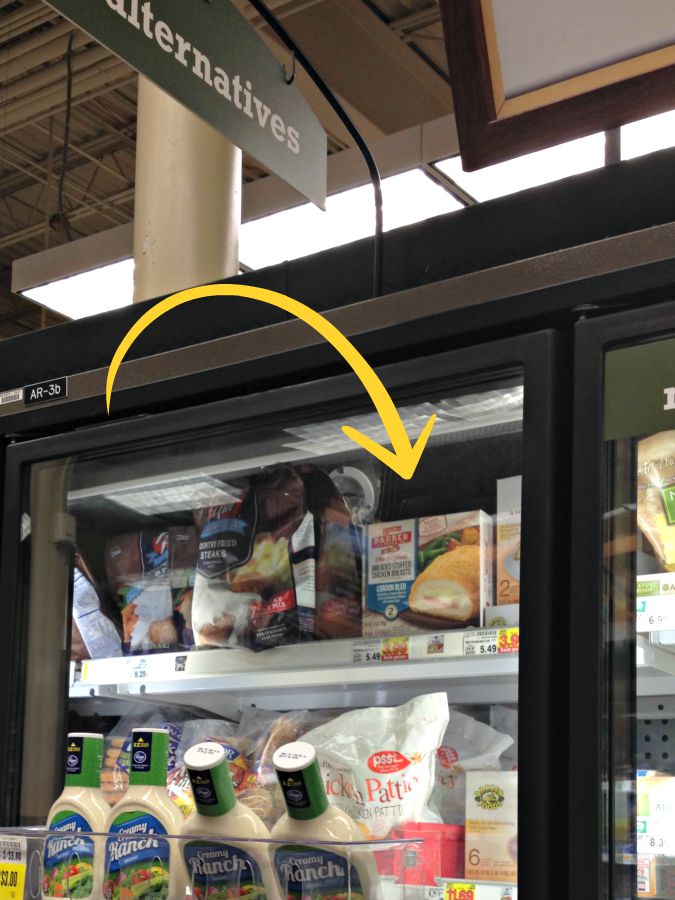 So I did just that! I grabbed a couple boxes of the Chicken Cordon Bleu, some sparkling grape juice, and fresh broccoli. To me, chicken cordon bleu just goes perfectly with a side of steamed broccoli and perfectly cooked rice. The bubbly as we call it, just rounds out a good celebration dinner.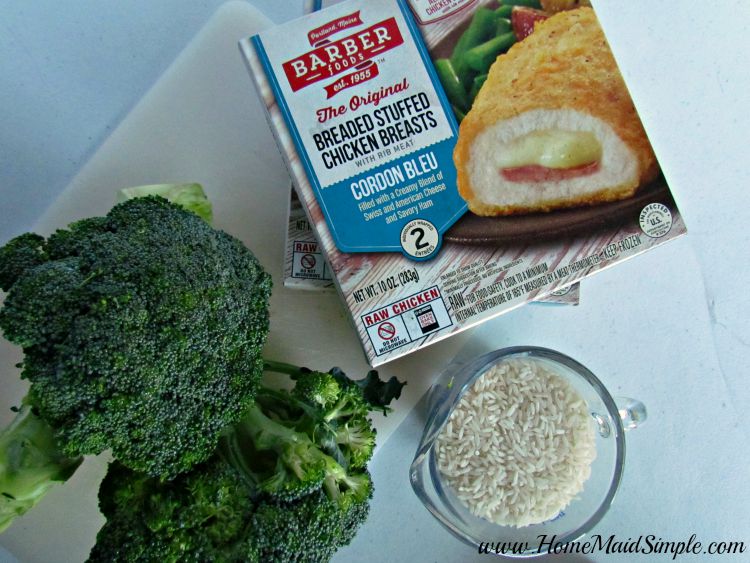 Three ingredients for the perfect meal that had all the kids eating? YES! You guys, we may have been celebrating the first day of fall last week, but for me the real celebration was a dinner with happy kids eating good food.
One thing I noticed and was surprised about the Barber Foods Chicken is that it's not actually precooked. You're buying raw chicken that's been stuffed and breaded – ready to be cooked. To me that just feels more fresh. Follow the cooking directions on the box, and be sure to get the internal temp to 165 F.
Once you have the chicken in the oven, get your broccoli and rice going. Start your rice first as it takes the longest.
Rice
1 cup uncooked long grain rice
2 cups water
1 tbs butter
Pour all the ingredients into a medium sauce pan. Place over medium-low heat. Cover and cook for 20 minutes. I like to check it about twice during cooking, and give it a good stir. This helps keep the rice on the bottom from burning to the bottom of the pan. Season with salt and pepper.
Steamed Broccoli
2 medium Broccoli stalks
Water
Chop up the broccoli into bite sized trees. Place in the top of a steamer pan. Fill the bottom of the steamer with water. Place over medium-high heat. Cover and steam until broccoli is soft.
While the dinner is cooking, I made some Confetti Poppers for the kids. Any good celebration has confetti right? These are simple, and lots of fun.
DIY Confetti Poppers
Colored construction paper
cardboard tube
tissue paper
ribbon
Cut your construction paper into confetti pieces.
Cut the cardboard tube in half. Place the ends next to each other, on top of your tissue paper. Roll the tissue paper around the tube.
Tie off one end of the tissue with a ribbon.
Fill the tube with your confetti. Tie off the other end.
Decorate as you please!
Do you know what's another great thing to celebrate – dinner being at the same time! The chicken, rice and broccoli, when cooked in the order I gave, will all be done within 2-3 minutes of each other.
The kids thought the Barber Chicken Cordon Bleu was like a humongous chicken nugget, and when they found the cheese in the middle it was like a treasure. Rice is always a winner with thems, and the broccoli while not a favorite, they overlooked complaining about as they were so enthralled with the chicken.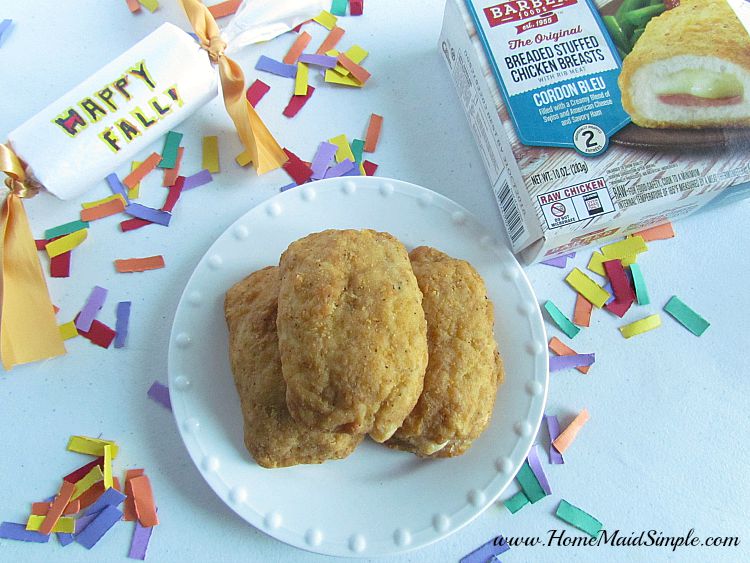 Follow Barber Foods