We may earn money from the companies or products mentioned in this post.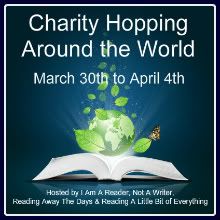 Welcome to the Charity Hopping Around the World Event
Hosted by
and
Each blog participating in this hop has chosen a charity to feature along with a giveaway.
I have chosen to tell you a little bit about a charity near to my heart.
3 years ago Princess C was diagnosed with Alopecia Areata. Alopecia is an autoimmune disorder that attacks the bodies hair. We became concerned when it looked like Princess C had rolled in a dogs bed – only it was her hair she was covered in. The doctor found about a quarter size bald spot on the back of her head. After a treatment of steroids her hair stopped falling out and began to grow back. Unfortunately steroids is not a cure, but it can help. We've been lucky enough to not have a recurrence, but it could come back any day.
There has yet to be a cure for Alopecia, or even a known cause for the disease.
Although a cure would be great CAP's main goals are to
-Build Self-Esteem
-Provide Support
-Raise Awareness
If you feel like you can you can make a donation to CAP
HERE
Sponsoring Home Maid Simple in getting the word out about The Children's Alopecia Project are
and
Chilanthropy
– The act of relaxing while being philanthropic
I reached out to Kimochis because I loved their concept, and feel they do for all children what CAP does for children with Alopecia. Kimochis toys are not just a toy but a way to help children understand and communicate their feelings. You can read my review HERE.
Chilanthropy I knew I wanted to work with as soon as I read what Chilanthropy means. Owner and founder, Rey, has devoted his business to helping charities around the world while creating wonderfully Eco-friendly candles. You can read my review HERE
This giveaway is over
Use the rafflecopter below for a chance at winning a Kimochis Cloud and your choice of candle from Chilanthropy.
Giveaway open to US only (sorry worldwide friends).

/*{literal}{/literal}*/
a Rafflecopter giveaway
You need javascript enabled to see this giveaway.