We may earn money from the companies or products mentioned in this post.
*This is a sponsored post for V8 V-Fusion
®
Refreshers and Business 2 Blogger. All thoughts, opinions and Cherry Berry Zucchini Smoothie recipe are honest and my own*
I have been on a search for the perfect smoothie blend with little to no sweetener and packed full of healthy goodness while still tasting good. When I saw the V8 V-Fusion® Refreshers in Black Cherry Berry flavor I knew it was going to be the juice base for my next smoothie.
Mark has called my previous smoothies a "gelatinous" lump, and so stopped drinking them. This time I was determined to get a consistency he liked and would drink. This was perfect for him, and he actually enjoyed the Cherry Berry Zucchini smoothie. Just please don't tell him it has cherries in it, I don't think he noticed!
The kids loved it as well and ignored the fact that there is a good bit of Zucchini in it. I loved it because I knew my kids and husband just got some awesome helpings of fruit and veggies, with no added sugars. V8 V-Fusion Refreshers first ingredient is Water and is followed up with fruit and vegetable juices. The rest of the list is short and contains all things that I can pronounce and actually know what it is. SCORE one for the health department.
For the smoothie, I did add some of my homemade peach honey which does contain sugar, but at 1 TBS of honey, there's not a lot of added sweetener going into this zucchini smoothie. I think I'm going to continue adding V8 V-Fusion® Refreshers to my smoothies for the extra boost of flavor and fruit/vegetable servings. Too bad my kids drank almost a whole bottle of the Tangerine Passionfruit in one meal – that would have made a pretty good smoothie base too!
Can you get any better than this? A juice made up mostly of water, homegrown zucchini, and peaches from my mom's tree. Nope, it does not get any better! I hope you enjoy this as much as we did.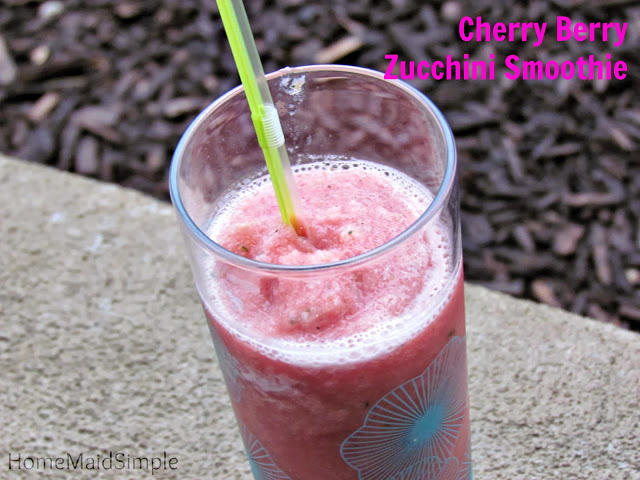 Cherry Berry Zucchini Smoothie
2017-08-09 19:06:40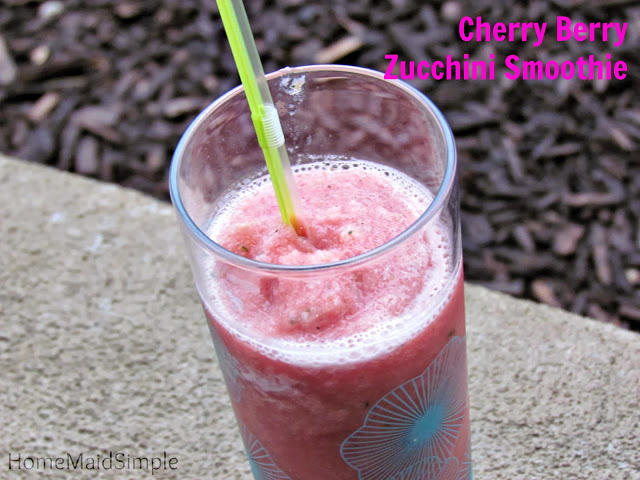 Serves 2
Get more greens in your diet with this twist on a "green" smoothie.
Ingredients
1/4 cup chopped zucchini, frozen
1/2 cup sliced peaches, frozen
1/4 cup vanilla greek yogurt
10 ice cubes
1 TBS Honey
2 cups V8 V-Fusion refreshers, Cherry Berry
Instructions
Place all ingredients in your blender, and blend until smooth.
Home Maid Simple https://www.homemaidsimple.com/
What's your favorite smoothie?