We may earn money from the companies or products mentioned in this post.
One of the best things you can do for your children from the age of 0 on is to read. Enhance children's literacy skills by bringing new books into the home. I received a BookRoo subscription for review. All thoughts and opinions are my own.
I love books! Children's books are especially a favorite of mine. I believe having a home filled with books is key to children growing up with a love and yearning for learning. It's proven that kids who grow up with books in their home, reach a higher level than those who do not – source.
When I heard of BookRoo I was pretty excited. New kids books delivered to my doorstep seems the perfect way to grow that home library, and enhance my children's literacy skills.
BookRoo arrived in a slim package perfect for the 2 picture books it held. Wrapped in a beautiful high-quality paper we found 2 new picture books I had never heard of. Their pricing is pretty fair for brand new books too.
A Dog Is A Dog by Stephen Shaskan. This adorable book was so fun to read the first time as we flipped the pages to find surprise animals. As we read it the second time through the kids caught on to the rhyming through the book. It's one of those books I could see the literacy skills being used subconsciously as each time we read it, we find new animals to rhyme with.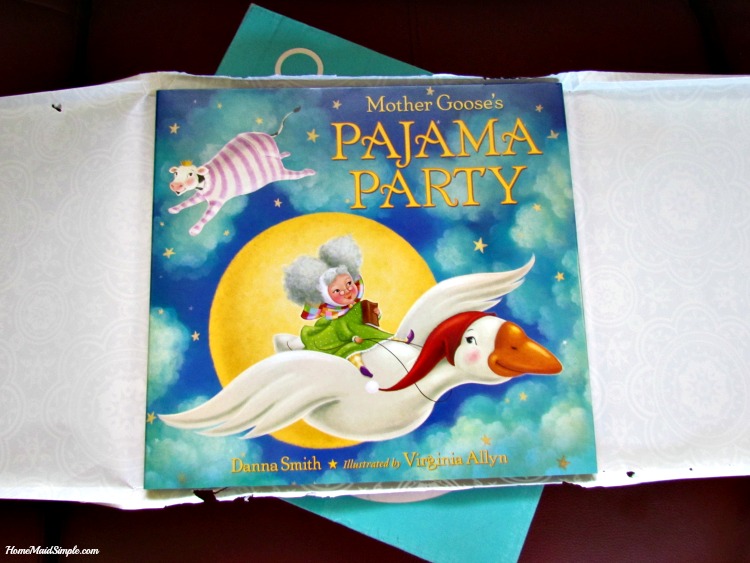 Mother Goose's Pajama Party by Danna Smith. This is by far my favorite children's book I've ever read! After reading it the first time I had to call my mom to tell her about it. She's a kindergarten teacher, and I couldn't think of a better book to introduce kids to Mother Goose's nursery rhymes than this one. See Mother Goose invites all her characters to a pajama party, and then she reads them her rhymes as they all arrive in their pajamas.
Are you ready to help your children's literacy skills improve? Sign up for a BookRoo Subscription today.