We may earn money from the companies or products mentioned in this post.
Have you finished your Christmas Shopping yet? I didn't think so.
A great way to connect with your spouse is to go Christmas shopping together.
Time: Plan on 4 hours
Items Needed: A small notebook, pen, and a budget
While we were visiting family last weekend, Mark and I took the time for a date. Family is our ideal babysitter for the kids, and they also live closer to the stores we like to shop at …. Ikea …..
We weren't planning a date on Black Friday, especially since it was also my Dad's Birthday, but it worked out that we were able to sneak away. We started the day off with a wedding (congrats Aunt Sandra!), and then moved on to our shopping. We headed up to IKEA in Draper. Ever since they opened a few years ago, it has been Mark's favorite store. He often pleads for us to stop if we're anywhere near. Since we had no kids with us and I am not currently pregnant, I was perfectly fine heading there.
We decided we'd walk around the display area first. I may have coveted some desks and lamps on the way. Eventually we ended up in the childrens area. Our initial plan was to buy the girls a table and chairs, but none were the size I wanted. So we decided to grab some lunch with our free Ikea lunch cards (compensation for our cupboards being damaged when delivered, and having to personally make the trip to return and exchange them).

We needed a plan of attack if we were going to do any shopping while we were out. So I grabbed the notebook I carry in my purse, along with my special pen. We wrote everyone's name down we needed to buy for. Then we proceeded to list what we would like to get them, what we had already purchased, and how much money we had to budget for it all.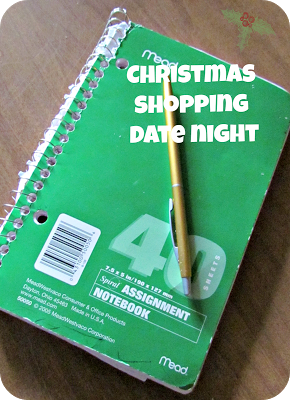 It was one of the most enjoyable lunches I've spent with Mark, and is definitely motivation to get back into weekly dates with each other.
We left lunch to grab the few things we could get there. Instead of a table for the kids, we got a double sided easel – chalkboard and whiteboard, with markers and chalk. From there, we perused the self serve items on the bottom floor, and checked out. We made a few more stops on the way back, and were only slightly past the time we gave my mom. With the wedding included, we were gone about 5 hours. Just him and me, me and him.