We may earn money from the companies or products mentioned in this post.
Earth day is fast approaching – next Monday to be exact – so let's talk Water Conservation.
Why Water Conservation?
Water is a necessary part of survival for all living things. We need water, animals need water, and plants need water. Without it, we would all shrivel up and die. Gosh, that's a little extreme isn't it? Don't we have a lot of water on this earth?
Well, sure we do. Take a look at this fun comparison of the size of the earth to the amount of water though. I was actually quite surprised
Crazy right? I mean I thought there was a whole lot more water than that. The large blue circle is showing all of earths water, with a diameter of 860 Miles. To learn more just click on the Source link under the picture.
One of the first things I remember my mom teaching me about food storage, is water storage. We were always storing 2 liter soda bottles full of water in our basement. I remember thinking we were pretty crazy when we had close to 100 bottles. I tell you what though, those came in handy when we lost power, and had no water to flush our toilets – because we still did! We just had to manually add it from the 2-liters.
Living in the desert, with what seems like a constant drought here, our cities are very particular about how much, and how often we can water our gardens. Turns out water isn't such a ready source, that will always be around. Who knows when we'll see the opposite of Noah's time, and find ourselves drying out. Fact is, if we don't take charge, we could be doing this to ourselves.
What can we do?

I would say in terms of wasting water, our bathrooms, mixed with 3 kids, is the biggest culprit. I've lost count of how many times I've gone to check on the girls only to find them all in the bathroom filling buckets and toys full of water to go dump somewhere else in the house. It's gotten so bad, that at one point we completely shut off the water to their sink. Since it is also our only bathroom while we remodel our master, it meant a bit of inconvenience for everyone to wash hands and brush teeth in the kitchen. But it worked to keep the water use to a minimum, and our carpets dry.
Alright, so maybe you don't have the same problem with your kids and water.
Perhaps you do suffer the problem of kids (or maybe even yourself!), leaving the water running while you brush your teeth, do your hair, husband shave their face, or whatever else you may use the water for. Perhaps you're one of those people that need ultra privacy while using the toilet, that you run the sink water to mask any sounds (can't say I've never done this…).
Did you know that turning the water off while you brush your teeth can save 3 gallons EACH DAY! That's a lot of water per day. You can also save up to 700 gallons per month by shortening your showers by one minute! Imagine the savings if you shortened them by more.
Another way we can conserve water is by purchasing faucets designed specifically to save water, and be eco-friendly. Pfister is certified by the Environmental Protection Agency to "meet and exceed the highest standards of efficiency".
We've been remodeling our guest bath into our master bath, we completely gutted it, and are replacing every fixture in the room. There's no better time than now for us to replace our old water guzzling fixtures (I kid you not, these sprayed everywhere with the water pressure, and lack of quality design). We have been looking at faucets for months it seems. I absolutely love the look of Jaida and Ashfield bath faucets from Pfister. The design matches the flow of our tub faucet, and the plus side is these are both part of Pfister's WaterSense certified line.
Which would you choose?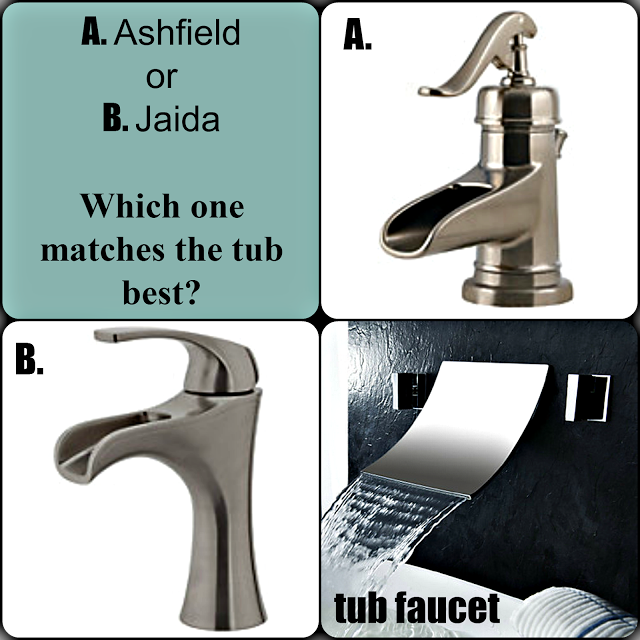 Pfister wants to Help you Conserve Water!
In celebration of Earth Day, Pfister is giving away 20 Faucets this week. 2 faucets each day to some very lucky people.
You don't have to be remodeling your bathroom or kitchen to replace faucets – although that's a good time to do it. Replacing the faucet is a simple change to the whole style of your room, and for those on a tight budget, can be the one change made that makes your house feel more like a home.
*I am a Friends of Pfister blogger. All thoughts and opinions are my own here. I was not compensated for this post, although I will use it as an entry to win my own Pfister Faucet.