We may earn money from the companies or products mentioned in this post.
Fall is here! This is my absolute favorite time of year. We seem to spend more time outdoors in the cool fall weather than we do any other time of year here.
I am especially excited to visit Cornbelly's Corn Maze and Pumpkin Fest at Thanksgiving Point this year.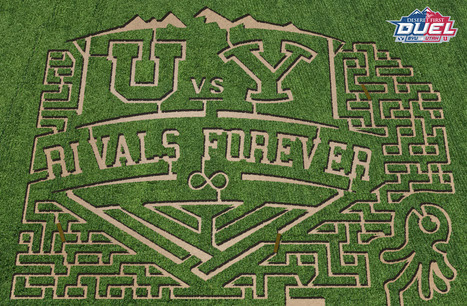 That's right, this year the maze design is a tribute to the biggest Utah Football rivalry – BYU vs UofU. It's all in good fun people. I personally won't choose a side…until the play USU, and then I'm an Aggie all the way.
Well, slightly, while Mark is hanging with some friends from church watching the BYU vs USU game (and rooting for the Aggies), I'm heading over to Cornbelly's with the kids to check out the 12 acre maze, kids maze, take some hay rides, and look at many many pumpkins. We might even jump in a big pit of corn. For you older folks and teens seeking a thrill, there is also a Haunted House…which I'll personally be skipping out on since I'd rather not give the kids nightmares.
Sounds like fun right?! For those local to Thanksgiving Point, or planning a visit to Utah sometime this fall, you can get $2 off your admission here. The fun opens this Friday October 4th and runs through November 2nd.
If you don't like near Cornbelly's, or are planning a Utah visit soon, check out this list of other Fall Festivals around the country!
*I have been offered tickets to come check out Cornbelly's Corn Maze and Pumpkin Fest. All opinions are my own.