We may earn money from the companies or products mentioned in this post.
I received product to facilitate this review. Opinions are 100% my own
I have to admit something to you all.
I'm not a big crafter. I WANT to be one. I love creating things. I just don't do it very often, I walk through a craft store and get overwhelmed, and the things most crafters have on hand constantly you'd be lucky to find in my house.
I sometimes feel bad for my kids, because I know they want to craft more. I believe it would help them be more creative individuals as well. Crafting can help them learn to solve problems; think outside the box.
These are all things that don't necessarily come easy to me. I do try though.
That's why when I heard about Crafters Crate, I was pretty excited. Yes I know, you see crate and you start thinking – here goes, another monthly subscription box. YEP! That is just what this is, but for crafters, and I would say more specifically for wannabe mom crafters like myself. Obviously Princess R was pretty excited as well – it meant real crafting time!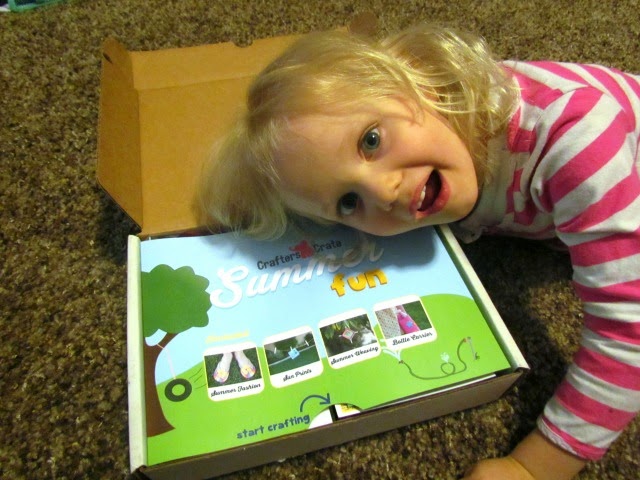 Crafters Crate comes with everything you need to make a number of different crafts. We got a crate of some fun summer crafts, and we still haven't finished them up yet (ok we did move, we're getting to them!). The girls were fighting over the fashion sandals, so I had to make a mom decision, and then let the other girls pick their next favorite to create. Mostly though, we worked together on all of them.
Right in the middle of wrapping Princess V's sandals with twine, some friends stopped by to see if we could play. So together they wrapped and wrapped and wrapped those sandals, while Princess C and her friend put together the flower necklace.
So what did we finally think of the Crafters Crate? The kids loved having crafts that they could do virtually mom free, and although I loved I didn't have to put any of it together for them, I was also sold on the sanity saver treat included. Shh, I may have snuck this out of the crate before any of the kids ever knew it was there!
Sine I love you all so much, and Crafters Crate wants to love you,
we've got a discount code!
I was just looking over at the site again, and am kind of bummed I didn't get in on Septembers crate. They had a Swashbuckling theme going on, complete with a spyglass, treasure box, pirate booty, and even a book!
Connect with Crafter's Crate
What's in your craft closet that I should put in mine?