We may earn money from the companies or products mentioned in this post.

I love Cranberry Juice. Growing up, I loathed it. I cringed opening the fridge and seeing the Cranberry Juice, because it meant someone was sick, and everyone would be drinking it until the sickness was gone. To my young tastebuds, Cranberry Juice was very bitter.
Then one day I married Mark, and he LOVED cranberry juice, drinking close to 1 glass a day. So I looked into Cranberry Juice more, and started slowly adding it to my diet (not diet diet, just the normal foods I would eat). Overtime I was able to overcome the bad childhood memories of cranberry juice, and actually enjoy it. I think the biggest problem was that when you have a cold, it magnifies the bitter taste. I still can't drink cranberry juice when I'm sick.
I was thrilled to have the opportunity to review some of Old Orchards Cranberry Naturals. Here's a few fun facts about this awesome drink:
– It has 2X the cranberry juice of leading "diet" juices
– 40% less sugar than other brands, and naturally sweetend with Truvia and just a touch of sugar
– NO artificial flavors or preservatives
Can it get any better? Besides Cranberry Juice already having tons of health benefits, Old Orchard has made Cranberry Juice healthier by cutting back their sugar and loading it with more of the actual fruits juice!
Now being the holidays are here, and the cold weather has come to stay, I had to try something a little new with Cranberry Naturals. I decided to make my own Wassail, completely experimental with no recipe to guide me (I LOVE recipes and rarely venture away from them). Oh, and if you're wondering what Wassail is, it's like Hot Apple Cider, but has more fruits and spices in it. One of my favorite Christmas Carols is
Here We Come A Wassailing
, although some sing it as
Here We Come A Caroling
. That is the only word that has been changed. Not sure why, but there's a little Christmas fact for you!
Right back to my Wassail. I made it up last night, and it was so delicious! The kids loved watching it simmer, and enjoyed drinking it as well.
Home Maid Simple's Cranberry Wassail
Ingredients:
64 oz Old Orchard Cranberry Naturals Original
6 oz Old Orchard Frozen Apple Concentrate
1 Gala Apple, peeled, cored and sliced
1 Orange, juiced
1 Orange, sliced
2 Cinnamon sticks
1/2 tsp Allspice
Directions:
In a large pot, mix all ingredients together. Bring to a boil. Once boiling, let simmer about 20 minutes. Serve warm. You can either pull the fruit pieces out, or enjoy with the wassail. The kids escpecially had fun seeing apples and oranges inside their drinks. For large holiday parties, I suggest doubling the recipe. Enjoy!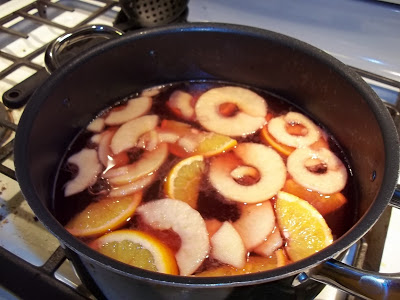 Guess what?! I have a giveaway for you!!! Old Orchard is giving away coupons for FREE Cranberry Naturals to 5 of my lucky readers! Each winner will receive 2 coupons for FREE Cranberry Naturals as well as 2 $.50 cents off coupons! That's 4 coupons each for 5 Winners!!
All you have to do is enter the Rafflecopter Form below!
(If the form is not reloading, or the wrong giveaway is showing, just click the title of this post, or refresh your page)
*I was provided with Old Orchard Cranberry Naturals to review and give my honest opinion. All opinions shared are my own.
RafflecopterSettings = {
raffleID: 'M2Y4ZmZjMzkyM2UyMDRjZTJhY2I3ZDBlNWZlMTRkOjk='
};
<a href="http://rafl.es/enable-js">You need javascript enabled to see this giveaway</a>.