We may earn money from the companies or products mentioned in this post.
Creating a night time routine for your baby is essential in helping them regulate their sleep and the key to a good night's sleep for mom. This post is sponsored by The Baby Cubby. All opinions expressed are my own honest thoughts. This post contains affiliate links and I will be compensated when you click on and purchase through them.
The biggest key to a good night time routine is to keep it the same every night, but also to be flexible with your baby. Watching for signs of tiredness, hunger and distress have been the biggest help for me as we regulate our night time schedule. After 5 kids, I think I've finally figured this whole night time thing out.
I use to think a routine didn't really matter. The baby would sleep when the baby slept, and be awake when they wanted to be awake. Unfortunately, that's just not true. Baby's need help to relax and start setting their bodies clocks. The following is what I have done with Harold, and he has been my best sleeper of all the kids. This is advice I wish I'd had with my last 4 kids.
Start the Night Time Routine with a Bath
The beginning of your routine is what needs to be flexible. You could say that you will start your routine every night at 7:30, but if the baby took an early evening nap, they might not be ready to go right back to bed. Or they didn't get a great nap in the afternoon and might be tired a little earlier. The key here is to start baby's routine about 45minutes to an hour before you want them to sleep.
We start our routine with a bath. We shoot for around 7:30-8pm when I have the rest of the kids getting their teeth brushed and jammies on. This has helped us all get to bed about the same time each night. I stick Harold in his bath and take the time to talk to him as I clean out all those crevices the spit up has worked its way into.
Whether you choose to start with a bath or not is up to you. It's OK to be flexible. What's important is the atmosphere created around the night time routine. Harold loved his baths but has recently taken a bit of dislike to the water, so we've become flexible and some nights he gets more of a sponge bath. Isn't this Turkish Towel from Lulujo adorable?
Night Time Massage
After the bath, I move on to a baby massage. Baby massages have been encouraged since I was a first-time mom 10 years ago, and I still find they help relax both my baby and myself. I'm currently using the Tubby Todd Lavender and Rosemary Lotion. Lavender has been used as a way to relax and help with sleep for ages. Rosemary is known for helping soothe sore muscles, so I can only imagine it helps calm those growing limbs and adds to the good sleep baby gets when used in conjunction with Lavender.
Night Time Snuggles
After the bath and massage, I snuggle Harold up in some comfy footy pajamas, swaddle him in his foxy muslin blanket and settle in for our last snuggles. Usually, this means the last feeding to fill his tummy before bed. While I'm feeding I like to open up one of my books and read out loud. It's never too early to read to your baby, but there's a point where it will have to change from your books to their picture books. Might as well enjoy something for you while the baby doesn't mind.
On nights I don't feel like reading, and I just want to gaze into his eyes as they flutter closed, I'll choose instead to sing or hum a few favorite songs. The point of this time is not just to fill his tummy, but to send him to sleep hearing a comforting sound – the sound of mother's voice.
After Sleep
Now that we have baby asleep in their bed, it really is time for you to climb in too. Before I sleep, though, I find the end of my night time routine is a great opportunity to write in Harold's baby book. I absolutely love the Welcome Baby! Baby Journal we found at The Baby Cubby. It has more space to tell the story of baby's life instead of just statistics.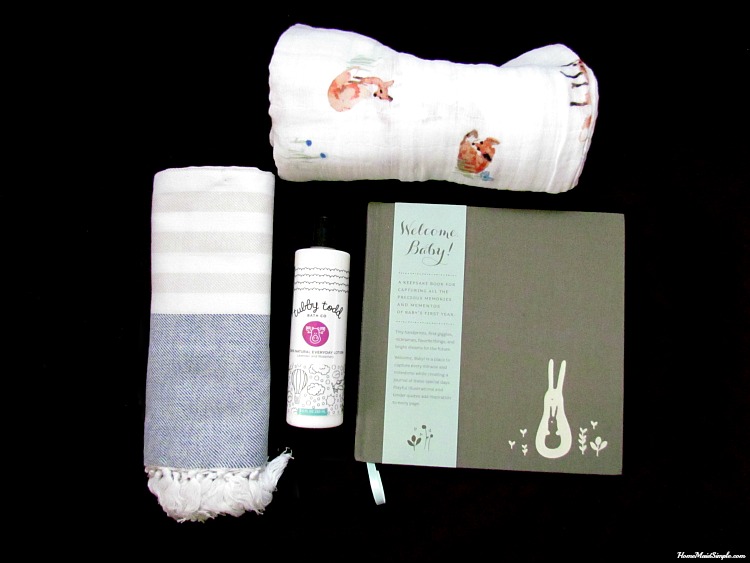 The Night Time Routine Products
I found all my favorite products to help make our night time routine the best at The Baby Cubby. Located in Lindon, Utah you can either shop in-store or online. The Baby Cubby is passionate about encouraging, inspiring, and reminding parents how amazing they are and how important their role is. While placing my order I had to call into the store for one of the products. They were extremely friendly and able to help me choose a few more items that I needed but wasn't sure were right for me.
Not sure yet? The Baby Cubby price matches, even with Amazon! They make sure you are always getting the best deal on the highest quality baby products. Now go get some sleep momma!
Price:

$64.73
Price:

$24.95
Price:

$21.98