We may earn money from the companies or products mentioned in this post.
*This post contains affiliate links*
When we were looking for a house to buy, we had a hard time finding the perfect home that also had the perfect yard. Having kids that love to play outside, meant we really needed the perfect yard for them. We found a number of homes we loved, but the yards were either non-existent, or surrounded the house in a way that wasn't kid friendly.
The deciding factor for this house we are now in, was the backyard. It was indeed perfect. The house, not so much, but we can work with that. There is only so much you can do to a yard when the house is already on it.
Now that we have the perfect yard, all I have to do is style it around us. The previous owner left a number of items with the house, including these beautiful, but in need of an up do, metal chairs.
I'm not a big fan of the red marbled look. The black I can't decide if I still want to keep or not. I'm thinking a coat of white would really look good, but that does show more dirt outside. Either way, I'm pulling some inspiration for the fabric from One King's Lane Soft Landing Sale (4/3-4/5).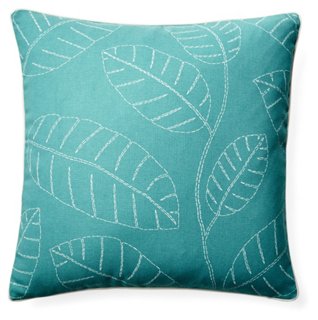 I'm really in love with this blue leaf pattern. I think if I coupled it with a white frame on the chair, it would give a nice pop of color to our back patio.
Have I mentioned how much I love One King's Lane? I put together this little inspiration board for our backyard with items in their Day of Outdoor Sale!
It's always nice to dream isn't it? To me the soft whites, and blues accented with some black would transport me straight to the beach.
What is your outdoor style? Comfort, entertainment, or kid centered?
(sale lasts through Friday April 5th or while supplies last!)
*In case you missed it, this post contains affiliate links. When purchasing through them, you support this blog. Thank you!!