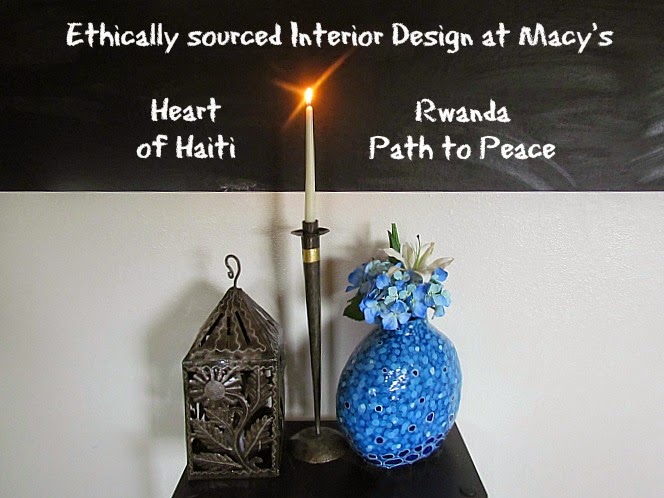 We may earn money from the companies or products mentioned in this post.
The Heart of Haiti initiative has provided some of the first sustainable work since the January 2010 earthquake. Each artisan receives half of the wholesale price, and also gets to connect through Macy's program to US artisans. This helps broaden everyone's artistic energy and inspiration.
The Rwanda Path to Peace has been doing a world of good for the country. Helping women lift their families and even whole communities out of poverty, providing a safe place for those affected with HIV/AIDS and bring women from 2 previously opposing sides together – I couldn't be more inspired by this collection of hand woven baskets.
Before I received pieces from these lines, my decor was, well, not so very pretty. It was really more on the side of, we just moved, I got rid of most of my decor before, and this is a good place to set stuff for now.
The Heart of Haiti pieces were just the right inspiration I needed for the top of the piano. The Papier Mache vase with Cord matched our set of snake skin drums perfectly.
I decided to keep our little Jazz Band as well, since the style just fit right in. The kids and I went shopping for some fake flowers, and found this gorgeous, yet so simple arrangement. The orange adds just another perfect pop to the vase.
It just didn't feel complete until I added some of the gold leaf candlesticks and our chalkboard JOY sign. It's a wonderful reminder to find joy in everything we do. From our home to our family, there should be joy in every aspect.
I couldn't very well stop there so I headed to the kitchen to do some more decorating. Ever since we've moved in, there's been this one wall – so empty and sad looking.
As I was looking at the Sunflower metal lantern and Blue Papier mache vase from the Heart of Hait collection, it dawned on me. I would need chalkboard vinyl, and a cute little table. I found the table at a yardsale, and ordered the vinyl from amazon.
Would you believe that's the same space? OK, yes obviously…but the chalkboard just completely changed it for me. The kids are loving it as well, and since the the vase is papier mache, I don't actually care if the kids play around it while coloring with chalk. I even used the Sunflower Wall hook to hold a piece of chalk for quick notes.
The beautiful thing about using a tray on the table, is that when you sit down to eat, it's easy to move all the decor at once – and equally easy to put it all back after eating.