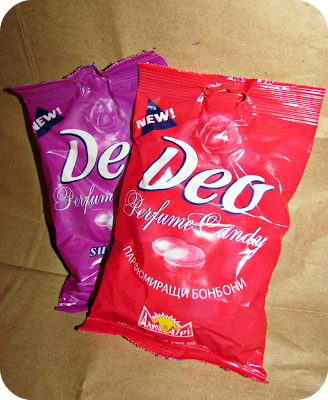 We may earn money from the companies or products mentioned in this post.
Have you seen this new Perfume Candy? I was a bit skeptic when I first heard about it. It's pretty good though. Supposedly after eating it, you'll sweat the smell of roses. Although I haven't noticed smelling any different, I do enjoy the taste of this candy. It's got a bit of a fruity flavor. Which after reading the ingredients, I'm assuming comes from the Tangerine flavor added.
Deo candy is a product of Scientific Research in Japan. I tell you what, those Japanese come up with some of the craziest, and yummiest candies I've had. My in laws live over there right now, and are always sending us cute little candies. You can learn more about it by visiting the FAQ page.
Whoa, little digression there. Anyways, this candy comes in regular and sugar free options. I personally preferred the regular. It has more flavor than the sugar free ones, and I'm personally all about taste. My 2 year old girl enjoys them as well….must be why I haven't smelled her dirty diapers for a bit….though my 4 and 6 year old have claimed they don't want to eat roses. Ah well, more for me and the neighbors then!
Buy Deo Perfume Candy on
Amazon
(currently sold out, after being on the Kelly and Michael show this morning)

I'm definitely going to be giving these to my mom friends and neighbors as holiday gifts this year! I even have this really cute way to package them –
I mean really? How fun would it be to fill these take out boxes with Deo perfume candy to give to your friends!
You do have to have an account (free to sign up) to get this, but you don't have to have the My Memories Suite Software. These printables download straight to your computer.
Would you like to try some Perfume Candy?
*I received Deo Perfume Candy in exchange for this post. Opinions are 100% my own. I received this as a member of
Mompact.