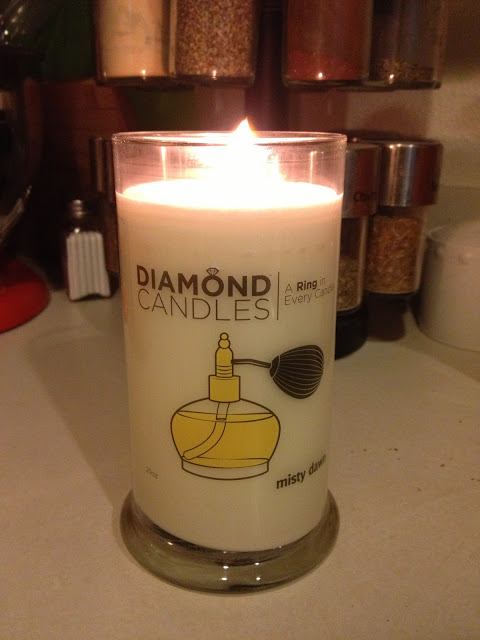 We may earn money from the companies or products mentioned in this post.
When I was a kid I collected candles. While all my friends were hitting up the mall to go to Claires, I was hanging out inside the Yankee Candle store. It always smelled to good to me. I felt I could have lived inside their store. Any extra money I had would go to buying a new candle.
It's been a few years since I've been inside Yankee Candle, and more since I've had the extra money for a nice candle. Well, then I saw these new candles hitting the internet, with a prize inside! Not a kid prize though, a grown up lady prize – rings!
Diamond Candles
is a new company that hides a ring inside each of their candles. They range in price from $10 to $5,000.
Misty Dawn sounded like a perfect candle to welcome Mark home from his business trip last week, and it was. The house smelled nice, with a light perfume smell.
How lucky am I? The ring was pretty close to the top, so I didn't have to be terribly patient to find it.
Diamond Candles wraps all the rings in a small bag, and then again in a gold wrapper to keep the rings safe from the wax and heat of the candle.
Look at that pretty ring! It's not one of the expensive rings with a Thailand stamp on the inside, but the color is magnificent. And really, I mostly just wanted another special candle. Candles really can change the atmosphere of the home.
Keep up with new scents and other Diamond Candle news on their Social Media pages
Enter to Win your own Diamond Candle