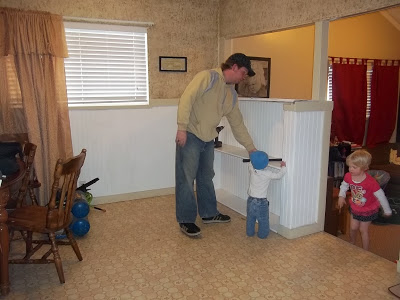 We may earn money from the companies or products mentioned in this post.
I wanted to pull our Dining Room remodel into one recap post. It's so neat to see the before and after shots next to each other! For me, it just doesn't even look like the same room anymore. I love our new Dining Room!
It started out as a simple floor to ceiling pantry project. Building this half wall up and into a pantry.
It soon took over the whole Dining Room when Termites were found. Keep in mind I consider this lucky, since we found them before our roof caved in!
Our simple project became a massive one. But we learned some cool things a long the way – like how to add temporary support beams to your ceiling.
and how to remove layers of wallpaper and paint
and how to tape and mud.
Since I was mostly told to stay out of the kitchen at the end, due to all the chemicals from primer and paint, I got inspired by pinterest to make a hanging drum light.
We took a special family trip to pick out this artwork. We wanted a Venetian feel, and I feel like we got that with the wall color, and this photo.
And finally we were done! If I haven't said it enough yet, I'll say it again, I love our new Dining Room! I love the pantry that allows me to see what we actually have! I love that we can all fit around the table, and there's enough light to see by!