We may earn money from the companies or products mentioned in this post.
I'm back and oh how I've missed sharing with you all! We are finally moved into our new little apartment. The unpacking has commenced, as well as the purging. If you recall we just moved from a 2600 square foot house to a 1600 square foot condo. It's really not too bad, but it does mean we have to dejunk, and re-prioritize our things to what is really important to us.
So while I go do that, enjoy this casserole I whipped up one day last week. It was yummy, though a bit saucy.
Enchilada Casserole
Ingredients
1 lb ground beef
21oz mild enchilada sauce – approx. 1 1/2 14oz cans (I used 28oz, way too much!)
12 corn tortillas
6oz cream cheese
4oz hot green chiles*
2oz can pieces and stems mushrooms
14oz can corn
14oz can pinto beans
1 1/2 cups zucchini (mine was from leftovers and was steamed. raw will work fine though)
1 cup shredded cheddar cheese
Preheat oven to 375 F.
In a medium saucepan cook meat until brown; drain grease. Add the cream cheese, green chiles and mushrooms. Let it simmer for a few minutes until all the cheese is melted. Stir occasionally.
Spread 1/2 cup enchilada sauce in the bottom of a 9×13 baking dish. Spread 6 tortillas on top of the sauce.
Spread meat mixture over the tortillas. Layer the last 6 tortillas on top. Cover with remaining enchilada sauce. Top with cheddar cheese. Cover with foil and bake for 30 minutes. Enjoy!
*The cream cheese counteracts the hot chiles, so they aren't too bad. My very picky to spice and heat kids had no problem eating this.
~FEATURES~
Cracker Salad
Mark has decided to try and lose weight with me – this salad looks like a perfect transition into more veggies around here.
Spicy Zucchini Stix
I still have so much zucchini! This popped out as one I'll have to try as a snack, or appetizer to use up my abundance.
Edible Dessert Cups
I about died when I saw these. I could fill them with fresh fruit and my kids would probably eat more good stuff just because it looks amazing!
Now it's your turn!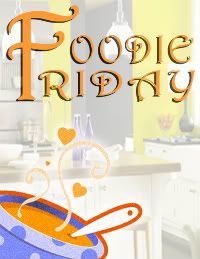 Link up to 3 new recipes
Hop around and find some new meal, dessert, snack inspiration!
FOOD RELATED POSTS ONLY! All others will be deleted. This is a food hop.