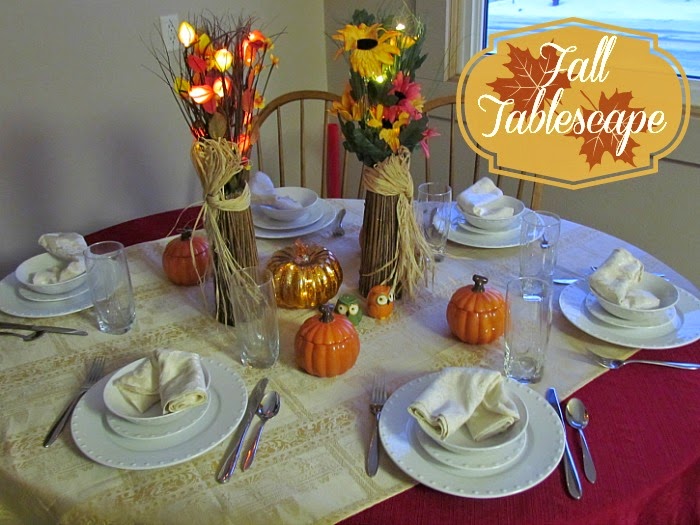 We may earn money from the companies or products mentioned in this post.
I'm trying not to apologize too much, but I feel I must here. I'm so sorry, I sort of skipped fall and jumped right into winter here. You know with posts like sharing the Christmas Experience. Admittedly back in September I did share some personal insights onto why I love fall. Unfortunately, the beautiful fall season just didn't last very long here in North Dakota.
Our landlord mentioned raking up the leaves one day, and the next thing I knew they were completely covered in snow. With Thanksgiving this week, it brings back some good fall memories and scents. My aunt always hosted Thanksgiving growing up, and she made sure her tables looked nice for all our guests. This year, although I'm not hosting, I still thought it would be nice to dress our table up a bit more.
I just love the decor I found at LTD Commodities. These flowers with the lights make having a formal dinner, without candles safe and fun for the kids. I also could not get over the glass light up pumpkins. Sadly, we had two, but one was ahem, knocked off the counter by a small child. Sad day indeed! The kids have been great at leaving the second pumpkin alone though – looks like they learned a valuable lesson.
I'm also in love with these owl salt and pepper shakers, that match a spoon rest for the stove. My mom has a collection of S&P shakers, so I'm always on the lookout for new ones. The colors on these are just perfect to go with the pumpkins.
The mini pumpkin dishes will be perfect for serving soup in, or dips/sauces so they don't have to be constantly passed around the table. I love these! A small squeal may have passed my lips as I opened them up. So perfectly fall, and perfectly useful.
Along with our package came a new LTD Commodities catalog, which my kids confiscated, and began planning their Christmas wish list from.
GIVEAWAY
My friends over at LTD Commodities would like to share the same Fall Decor items I received with one of you!