We may earn money from the companies or products mentioned in this post.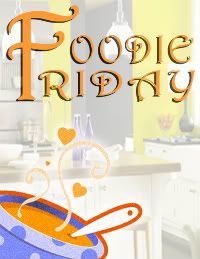 Welcome back to another Foodie Friday
If you're new to Foodie Friday, here's the run down
1. Link up your recipe or any food related post below
2. Browse the linky, visit some new blogs, and share if you feel so inclined.
3. Please only link up 3 posts. This lets us visit as many of you as possible.
4. By linking up you give me permission to feature your photos on Home Maid Simple (always linking back to you of course!)
Since it's the Friday after Christmas, and that usually means a slowing of blogging for everyone, I decided instead of featuring one of you on a slow day, I would take a little time to share some of my favorite recipes this year. If you've been around for awhile, you know I use to share a recipe every Foodie Friday. It got to be just a little too much for me though, and I didn't feel like I got to connect with any of you. So I started sharing recipes whenever I made them, and focusing more on you each week. I have really had fun reading through the different profiles each week, and talking to you through emails, facebook, and twitter. We'll get back to your features in January 2014.
This past year has been an immense time of growing for myself and Home Maid Simple. My recipes went from ok – usually something I changed up just a tiny bit from someone else's recipe, to creating recipes entirely on my own. My photography skills have also taken a huge leap in improvement as I've learned to use natural lighting, and actually set up the backgrounds a bit better.
I hope you enjoy these recipes from Home Maid Simple. Click through the links to get the recipes, and check out past Foodie Friday link parties. You never know what you may find!
In an effort to get our Prince L extra protein we bought some Sunflower Butter. While looking at the jar one day, I thought it was about time I make some
Peanut Free no-bakes
. My nephew is allergic to nuts, so even though we don't live close to them, I often think of ways to make yummy goodies for anyone that might have a nut allergy. Try these. Love them. Enjoy them.
For Mothers Day this year I bought myself flowers, and made a pretty
breakfast in bed
. The chocolate butterflies were my favorite new technique learned this past year. I also just found you can do them in different colors, just by buying the colored chocolates!
Finally I shared my
Cherry Almond Cheesecake
. The pure awesome-sauce that this became with my family has inspired me to continue playing with cheesecake and decided to write a recipe book that will hopefully be available by next Christmas. I promise my readers, I'll have a deal equally awesome-sauce for you once it's available for purchase.