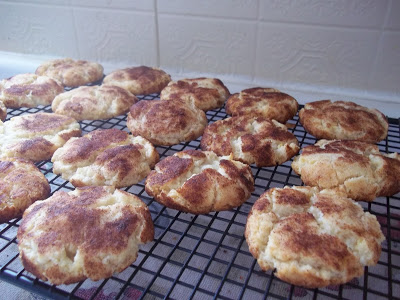 We may earn money from the companies or products mentioned in this post.
Foodie Friday
Every friday we will share a recipe on our blogs. At the end of the post we encourage you to link up your recipes! Let's get cooking!
I was looking for a Peanut Butter Cookie recipe the other day, and finally (out of my stacks and stacks of cookbooks) found one in a book called Deseret Recipes (published by the LDS church).
To make the Peanut Butter Cookies I had to make a Basic Cookie Mix first.
Basic Cookie Mix
9 cups flour
3 cups powdered dry milk
3 TBS baking powder
1 TBS salt
4 cups shortening
4 cups sugar
Stir the first 4 ingredients together. In a large bowl cream the shortening. Gradually add the sugar to the shortening. Once it's mixed, slowly add the dry ingredients. Blend or use a pastry cutter until it is the texture of cornmeal.
Store tightly covered at room temperature. Will last for several weeks.
Now this will make a lot of cookies! I cut my Basic recipe in half, and still made three different batches of cookies. Today I'd like to share a recipe using the Basic Cookie Mix, for Cinnamon Cookies. What you thought I'd share the Peanut Butter Cookie recipe? I would, but the baking bug hit me, and out of the 3 types of cookies I made, the Cinnamons were definitely the best!
Cinnamon Cookies
2 1/2 cups basic cookie mix
1 tsp vanilla
1/2 cup sugar
1 egg, slightly beaten
1 1/2 tsp cinnamon
Blend the basic cookie mix, vanilla, sugar and egg. Form the batter into balls, any size you like, and roll them in the cinnamon.
Bake at 375 for 12-15minutes.
document.write('