We may earn money from the companies or products mentioned in this post.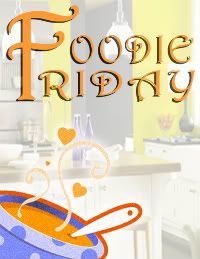 If you're new to Foodie Friday, here's the run down
1. Link up your recipe or any food related post below
2. Browse the linky, visit some new blogs, and share if you feel so inclined.
3. Please only link up 3 posts. This lets us visit as many of you as possible.
4. By linking up you give me permission to feature your photos on Home Maid Simple (always linking back to you of course!)
5. Each month I send out a newsletter with the most popular links from that month – you may be featured!! This is a once a month newsletter, every first Friday of the month, no spamming involved. Sign up over there ——>
Well, I'm in New Hampshire! Terribly missing Mark and the kids, but loving every minute I get to spend out here. Since my niece and nephew are still in school, I've taken up running again, and wow. I can't believe I ever let myself stop. I know plenty of moms who make the time, but I never felt I could with my kids. This is something I plan on keeping up once I'm home. Even if it's just walking with the kids. Being outside in Earth's beauty is invigorating.
Weird thing is that I haven't been nearly as hungry here. I thought I might find myself snacking a bunch while I'm alone during the days, but I just don't want to. I think I've found my food balance on this trip. I did however pick up some Strawberry Rhubarb Scream from the local farmers market here yesterday. I can't wait to get it home and try it out. If you happen to live in New England or more specific New Hampshire you should check out
Red Fox Farm
. My brother also picked up some Duck Eggs from them that I hope to try before leaving.
OH speaking of trying things out – I tried and actually enjoyed my first escargot here. I thought about taking some video of it, but the restaurant was a no cells in the dining area place (LOVE). I don't think I'll ever look at the snails we have covering our apt the same, but it was worth it. Much better than calamari.
Well enough of my rambling, let's move on to this week's features. Since I am on vacation, I again haven't had time to really delve into any one blog this week. So instead I will share once again your favorites from last week. Enjoy.
Corn Salad
Poblano Pepper and Pepperjack Popovers
Fresh Corn on the Cob with Basil tomato Butter
I hope you are all having a fantabulous week! Eating lots of good food, basking in the spring almost summer weather, and spending time with those you love.