We may earn money from the companies or products mentioned in this post.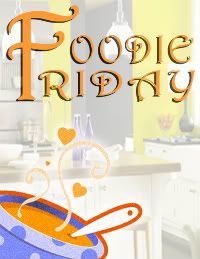 Welcome back to another Foodie Friday
If you're new to Foodie Friday, here's the run down
1. Link up your recipe or any food related post below
2. Browse the linky, visit some new blogs, and share if you feel so inclined.
3. Please only link up 3 posts. This lets us visit as many of you as possible.
This week we're featuring:
The main writer behind Jade Louise Designs is Amber – I say main because she has 2 contributing authors as well. Over the past year I have really gotten to know Amber through a connection on Facebook, past liking each others fan pages. She has inspired me to be more creative and take more time with my own blog. At one point we found we share a mutual connection through Mark's cousin. I always love finding out just how small this world is.
Amber is a stay at home mother, housewife, and blogger. Get to know Amber more by visiting her
About page.
I chose to feature Jade Louise Designs this week because Amber put together the perfect post full of tips and even a Brine recipe for your Thanksgiving Turkey. I wanted to make sure you all had it, in case you are in charge of cooking the Turkey this year.
Anytime Amber posts a recipe, I get sucked right in! And then her photos and links to other recipes, yeah I waste a fair amount of time browsing and pinning her stuff. Things like these
Mini German Pancakes
, that then led me to checking out her
Peanut Butter Hot Cocoa
…of which I know I've looked at before, but it's a chilly day here. I couldn't resist. Someone help me, because I'm off to reacquaint myself with her homemade
Belgian Hot Chocolate
now too…I may not leave my kitchen this weekend!