We may earn money from the companies or products mentioned in this post.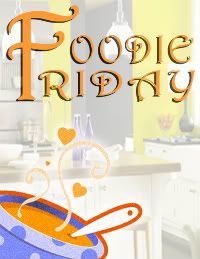 Welcome back to another Foodie Friday
If you're new to Foodie Friday, here's the run down
1. Link up your recipe or any food related post below
2. Browse the linky, visit some new blogs, and share if you feel so inclined.
3. Please only link up 3 posts. This lets us visit as many of you as possible.
4. By linking up you give me permission to feature your photos on Home Maid Simple (always linking back to you of course!)
If you haven't signed up for the Foodie Friday Newsletter yet, you can do that on the right hand side —-> Just enter your email, and you'll be good to go! The next installment will be coming out next Friday!
It was a pretty slow week around here. On Monday I had a headache like I've never experienced before that just took me out. The rest of the week I've been spending my time helping the kids with Science Fair Projects. We were researching Butterflies and Fish. Let me tell you, that was a lot of fun! I just wish I could have been with them as they presented it to the judges today.
Some cool new things though around here – if you scroll way down to the bottom of the page you'll find a new bar for the Daily Meal! I've joined up with their Culinary Content Network. I feel I'm going to learn a lot from the other amazing bloggers in the network, and be able to bring you all better content. Wahoo! So go check them out!
If you missed my only other post this week – I'll just send you to look at it now. Help me raise awareness for Project HEAL and eating disorders. You can look forward to guest posts and educational info on eating disorders. Isn't that exciting?
So enough about me! Let's take a look at our Featured Blogger this week!
Meet Lindsay – blogger behind Life, Love & Sugar. Her sweets call my name every single week! It's hard not to start baking up a storm after looking at her photos. Lindsay loves sugar, and making dinner, and being crafty. I got a kick out of reading through the Fun Facts she has on her site. Just to give you a fun idea
she's eaten an entire Funfetti/Rainbow chip icing cake on her very own…in 48 hours!
She would be a dolphin if she could for a whole day. Because dolphins rock!
One of her favorite things is waking up on the beach from a nap. So jealous that you can do that Lindsay!
Last week Lindsay shared 2 very delightful looking recipes with us – Reese's Peanut Butter Chocolate Chip Cookie Cake and Red Velvet Cupcakes with Cream Cheese Frosting. Check them out!
I feel this recipe needs the word Loaded in there. It is loaded my friends, and I want a piece right now!
I'm sold on anything that is topped with cream cheese frosting. Don't you just love this photo?