We may earn money from the companies or products mentioned in this post.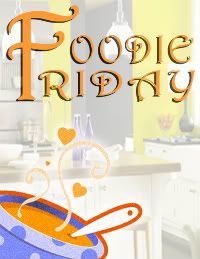 Welcome back to another Foodie Friday
If you're new to Foodie Friday, here's the run down
1. Link up your recipe or any food related post below
2. Browse the linky, visit some new blogs, and share if you feel so inclined.
3. Please only link up 3 posts. This lets us visit as many of you as possible.
4. By linking up you give me permission to feature your photos on Home Maid Simple (always linking back to you of course!)
Phew, what a crazy and fun week it's been! Last week I launched the monthly Foodie Friday newsletter. I hope many of you received it and enjoyed the look. If you'd like to sign up you can do that
here
, or over in the side bar. For those of you that did get one, I would love some Feedback! What did you like? Didn't like? Do you want me to tell you if you're going to be featured in it?
Today alone has been a rollercoaster of a ride. It was going pretty good, until right when I started to work on this post. Then my husband calls to tell me he got a call from our bank about some possible fraud. Yep, sure enough someone thought $900 in starbucks was a good purchase to make using our card. People, we don't drink Coffee, which means just about any Starbucks purchase is going to look suspicious (though I admit I do like their caramel apple cider). Anyways, so when I was supposed to be writing this, and making my family dinner, I was on the phone getting it worked out with our bank. Fingers crossed there's no problem in returning our money. You can expect a post on lessons learned about identity theft in the coming month.
Enough about me – today I want to feature a long time Foodie Friday participant – Please welcome Mary from
Mary is a Philadelphia based writer that specializes in gourmet cooking from the Mediterranean regions of Spain, Greece, Israel, France, Morocco and more. As her tag line says "a vegetarian diet doesn't have to be boring!"
Although we aren't vegetarians, it also doesn't mean we don't like to cut out our meat periodically either. If you read last week's feature, you'll know I'm seriously falling for some tasty vegetarian looking meals, that aren't just sides! I have loved visiting Mary's site over the years, and trying to recreate her delicious looking recipes at home.
Last week she shared a more traditional recipe for garlic bread, and I have to say, I'm going to try it! No garlic salt, no loads of butter. Just some bread, a little oil and real garlic.
Lentil, Potato, and Veggie Sausage Stew
This is an older recipe Mary shared with us last year, but one I just love! Her soups always look delicious.
Connect with Mary