We may earn money from the companies or products mentioned in this post.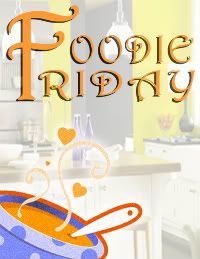 Welcome back to another Foodie Friday
If you're new to Foodie Friday, here's the run down
1. Link up your recipe or any food related post below
2. Browse the linky, visit some new blogs, and share if you feel so inclined.
3. Please only link up 3 posts. This lets us visit as many of you as possible.
This week we're featuring:
Kathy is the magic behind this blog. She confesses to be a recipe hoarder, with cookbooks filling ever inch of her house. Her idea of Melding Magic came from leftovers. Since she hasn't mastered cooking for 2 yet, they always have plenty of leftovers. The magic comes when those flavors are allowed to sit and meld together. YUM! She easily makes leftovers sound a bit more appealing.
Follow Melding Magic
The first time I ever tried Eggplant Parmesan was after Diane posted it as a one of her Foodie Friday recipes last year. Pretty good stuff! I can't wait to give Kathy's a try.
Although I personally avoid consuming alcohol, I think I can easily adapt her technique, and seasonings to create a beerless battered fish.
and finally dessert
Maple, it just goes with everything! I've got plenty of pumpkin on hand too.