We may earn money from the companies or products mentioned in this post.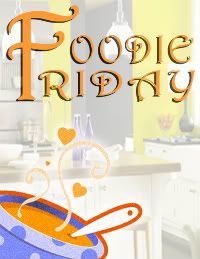 If you're new to Foodie Friday, here's the run down
1. Link up your recipe or any food related post below
2. Browse the linky, visit some new blogs, and share if you feel so inclined.
3. Please only link up 3 posts. This lets us visit as many of you as possible.
4. By linking up you give me permission to feature your photos on Home Maid Simple (always linking back to you of course!)
5. Each month I send out a newsletter with the most popular links from that month – you may be featured!! This is a once a month newsletter, no spamming involved. Sign up over there ——>
My week:
So we've been on Spring Break this week – I thought I would get a lot of housework done and playing with the kids – but boy have I been slacking! It's just been one of those crazy weeks. It started with my brother coming home from his 2 year LDS mission to Boston on Monday. We met them at the airport Monday night with lots of hugs and excitement. Tuesday I was worn out, so I don't know what I did. Wednesday was Prince L's birthday, so we did a lot of train playing and outside running. Today I'm at my mom's helping her garden. We'll have it all planned out, and maybe a few seeds planted by the time you're reading this. Friday we're doing a family party for Prince L. Saturday is my cousins daughters Baptism, at which I'll be speaking – nervous! And Sunday will be spend with my family at church where my brother will be speaking on his mission experiences. It's really a great week though! Just busy. Hope you're all having a great week too
This weeks Feature is:
When I go to a new blog, one of the first things I love to do is learn more about the blogger. I don't know what it was exactly, but I want to be Raia's friend for life. We're pretty different – I am terrified of a home birth, I don't have any food restrictions, and I actually love to cook (it's the cleanup I hate!) – but I think there was one thing she said that really made me want to be her friend
"The most import thing about me? I firmly believe Jesus is the Messiah. Coming to this realization was the most amazing thing that ever happened to me."
Me too Raia! Oh and I also have 4 kids – 3 girls and a boy, so we're kind of alike there too 😉
Raia jumps out to me as being upbeat, friendly, and loving to all. When I get that feeling after only a few seconds on a blog, I know I'm going to be sticking around – hopefully we can be friends Raia! Most of what Raia will post is Gluten, egg, and dairy free, and a lot of it will also have chocolate. Check out what she shared with us last week, and then remember to connect with Raia and say hi!
I am so in love with smoothies. I don't do them terribly frequently because I hate cleaning the blender, but at least once a week I indulge
Come on, you know you like moms that give into their kids on a Saturday night and make healthy-ish doughnuts for dinner!