We may earn money from the companies or products mentioned in this post.
Welcome back to another Foodie Friday! Some big news is coming your way! We're changing the name of this party. We don't know what to yet, but Diane and I would love your suggestions. It seems in the past 3 years, more parties have opened with the same name, and since we don't want you to get confused, we are changing!! Leave us some suggestions below in the comments.
SO, you might be wondering why I have no feature for you today. I'm so sorry, but it's been just crazy around here. As I told you last week, we are moving to North Dakota. It happened fast, and we only had 1 week to pack and move. In fact while you are reading this I should be driving somewhere across Wyoming, maybe even into South Dakota already!
I got curious about the cuisine of North Dakota. I'm sure they have your regular American Fare, but every state I believe has something unique about them when it comes to food. Here in Utah we're known for our jello and funeral potatoes. So what was I going to find in North Dakota? First I found out that Wikipedia has a page all about North Dakota Cuisine. Then I learned that they are very much into their Norwegian Heritage. This October may very well find me driving up to Minot, ND for the largest Scandinavian Festival in North America! And sometime in February I will look into attending the Lutefisk Dinner which just might be the largest authentic Norwegian Dinner.
You are excited right? I plan on really getting into some Norwegian cooking over the next year to connect with the heritage of my new state.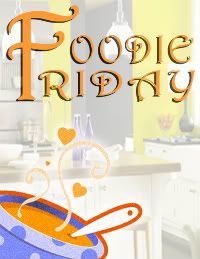 If you're new to Foodie Friday, here's the run down
1. Link up your recipe or any food related post below
2. Browse the linky, visit some new blogs, and share if you feel so inclined.
3. Please only link up 3 posts. This lets us visit as many of you as possible.
4. By linking up you give me permission to feature your photos on Home Maid Simple (always linking back to you of course!)
5. Each month I send out a newsletter with the most popular links from that month – you may be featured!! This is a once a month newsletter, every first Friday of the month, no spamming involved. Sign up over there ——>