So Mark came home one day and said he heard someone on the radio talking about quiche, and hey maybe we could have some. Hey, sounds good to me. I love quiche, and we had plenty of our garden produce on hand still. all I needed was the eggs, cheese and crust. I had actually quit making quiche because I couldn't get the crust right, so this time I caved and bought a pre-made crust from the store. This was good! Like, really really good!  I hope you enjoy
Ingredients
Refrigerated Pie Crust
10 eggs
4 oz shredded swiss cheese
1 large tomato, chopped
2 oz canned mushrooms
2 TBS chopped white onion
1/4 cup shredded Zucchini
Directions
Preheat oven to 350 F. 
In a large mixing bowl, whisk eggs until yolk and white are completely mixed together. Add in the cheese and veggies and mix well. 
Roll the pie crust out, and press into the bottom of a 9 inch pie pan. Pour in the egg mixture. Bake for 45 minutes or until top is golden brown and eggs are set. 
~FEATURES~
First off, let me tell you about this awesome "adventure" going on over at
Holly's Helpings
. Ever been afraid to cook something, or maybe you need help making something like pie crusts?  For the next year Holly has picked one thing a month to make. Starting in September we're doing Souffle's! So head over to Holly's and join the challenge. 
Vegetable Egg Rolls
I am now craving egg rolls. Crispy outside, and packed full of veggies. 
Asiago Soft Pretzel Buns
Asiago anything has my attention. Make them pretzel buns, and I'm definitely adding them to the menu.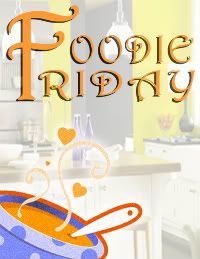 CoHosted by Diane at Simple Living and Eating
This is a Food Party. 
Please link up only Food related posts. 
Hop around and enjoy some new recipes, meet some new chefs, and enjoy the food.