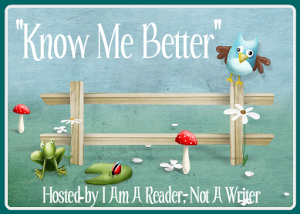 We may earn money from the companies or products mentioned in this post.
A weekly meme hosted by I am a Reader Not a Writer (by far my favorite book blog!)
This week Kathy is asking –
1.If someone wrote a book about your life, what would the title be? I have no clue. Naming this blog was hard enough! Maybe something like Jane of all Trades, Master of None, lol. I dabble in a bit everything, it kind of fits (and Jane sounds better than Jack.) Or The Many Hats of Adelina. Maybe something simple like The Life of a Mom. Maybe we shouldn't have a book written about me.
2. If you could have a signed copy of any novel what would it be and why? The Giver by Lois Lowry. There are a ton of books I would love to have signed, but The Giver was one I picked up and really got me thinking more. It's my first recommended book to anyone that asks.
3. Horror or Romance? Neither really. I don't like getting scared. I threw A Man Called Poe across my bedroom when reading it as a teen cause it was too creepy! Romance, unless it's clean and really well written, not much of my thing. A little romance in the book, I don't mind, and a little horror, but as the main theme of the book, I usually pass.
4. If you could choose only one time period and place to live, when and where would you live and why? Romantic Era England. I want to wear those awesome dresses every day, and do my hair up all fancy.
5. Do you prefer a bunch of small gifts, or one big expensive one? Neither really. I'd be happy with one or two small gifts. What makes me the happiest is when it's useful, something I wanted, or something that brings our family closer together. Right now I'm hoping for a floor to ceiling pantry…