We may earn money from the companies or products mentioned in this post.
That's right, it's the Energizer Bunny's 25th Birthday, and he's celebrating at Walmart with
Energizer Max batteries
. The best part – Bunny wants to give you a present!
The sad realization is that I'm older than this bunny that just keeps going.
I was pretty stoked to realize that after buying 2 packs of Energizer Max batteries, I could redeem codes online for a $10 gift card back to Walmart. That almost covers the whole cost of the batteries!
Don't try and use the code here, I've already claimed it, and they can only be used once.
Claiming your gift card is really so simple. I'm terrible at keeping receipts, and then I get annoyed that I have to pay postage to send proof I bought a product for the company to send me the promotional item. Energizer has taken it to the next level by doing it all digitally. You just take your 2 codes and enter them online, fill out your mailing info, and click…
Now what am I going to buy with that gift card? Very possibly more batteries! Though I did see a nice set of sheets in the clearance aisle while we were browsing the shelves at Walmart. We have been going through batteries crazy fast around here. As the older Princesses have taken to playing the Wii, and the younger Prince and Princess have taken over old Birthday toys – I often forget to make sure everything has been turned off when they're done playing. Whoops!
Really we only have 3 toys that I seem to constantly need batteries for (minus the Wii-motes), and it's because over the years they have continued to bring joy to the kids, and I don't find their sounds annoying. I seem to be replacing batteries almost weekly though – that's just too much.
I kid you not, my brother and his wife are the BEST gift shoppers ever. All three of these were either Birthday or Christmas presents from them to my kids.
The Learning Dog is our oldest and most loved battery operated toy, at 6 years old. He's been through all 4 kids, and currently Prince L is attached. Just watch my Instagram Video of them.
The Pirate Ship was a joint present to Princess V and C one Christmas about 5 years ago, and surprisingly has not fallen apart yet. It is the MAIN attraction to every kid that walks in this house.
Finally little glow bug, at only 2 years old, she is the cause of much screaming and yelling between Prince L and Princess R. With her calming glowing face, I may just need to invest in a second one this Christmas. She was a gift to Princess R after Prince L was born.
I remember as a kid watching commercials with the Energizer Bunny, and he just kept going and going and going. Did anyone else ever want to test out the batteries in their own little Energizer Bunny and see just how long they would go? Energizer Max batteries will hold power for up to 10 years (or so they say). I think I've found my test subject. Learning Dog will be sporting his new power for many years to come.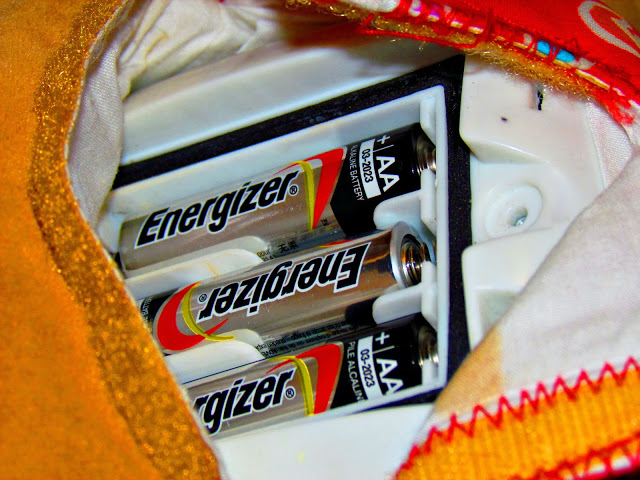 Don't forget the batteries this Christmas!