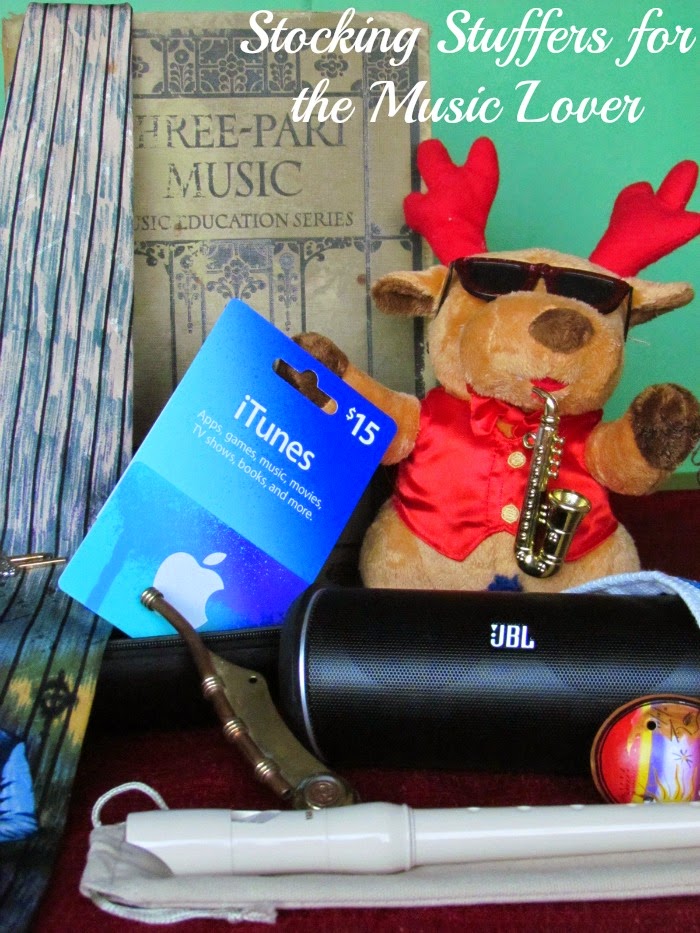 We may earn money from the companies or products mentioned in this post.
This shop has been compensated by #CollectiveBias, Inc. and its advertiser #GiftingAudio. All opinions are mine alone.
This one time, 6 years ago, I was cooking dinner, when BAM! A speaker falls off our cupboard, and we find ourselves in the ER getting staples in my head. It's a moment I like to periodically bring up when Mark comes home with new speakers that "were an amazing deal, and you can't beat the sound quality!" Sometimes I put my foot down, and make him get rid of some before he can bring more into the house. Little does he know, I actually bought HIM a wireless speaker this year.
It's a rare occasion, but the first time was when he sold his humongous sub woofer, and like a year later I found it at a yard sale. Yeah, we once again sold that. Oh well. It was big clunky, and hard to move. This year I knew I was going to theme his Christmas stocking around music. I wasn't sure where to begin at first, but then I came across the
JBL Flip 2 Speakers
.
I was already familiar with JBL speakers thanks to Mark's love of them, so I just knew this was going to be the start of his stocking. The Flip 2 Speaker is portable, wireless, and runs on Bluetooth. Shopping on JBL's website was really easy with free ground shipping, 30 day returns, and lifetime support! Those are the key things I look for when shopping online.
I am in love with the size of this speaker. Nice round edges, and a compact size means I just might be able to stop bringing up the falling speaker story…maybe. You know what else is great about it's size? It fits in a Christmas Stocking!
The star has arrived for his stocking, so I've been on a hunt for other items to really make his Christmas morning a fun surprise. Obviously we needed an iTunes gift card so he could download all his favorites – like Mozart and Smashing Pumpkins. He's a well rounded music lover as you can see.
After I picked up the gift card, I found this really awesome old music book. Hello! I just can't resist books, but old books with music? Mark and I can agree on those.
Next I found a couple more fun items that really spoke to his personality. The Reindeer playing a saxophone is a given for Mark. I included an Ocarina, boat whistle (OK admittedly my parents gave him that one year…it just looks cool here), a sopranino recorder to play along with the music, and one of my absolute favorite tie finds ever – complete with saxophone tie pin.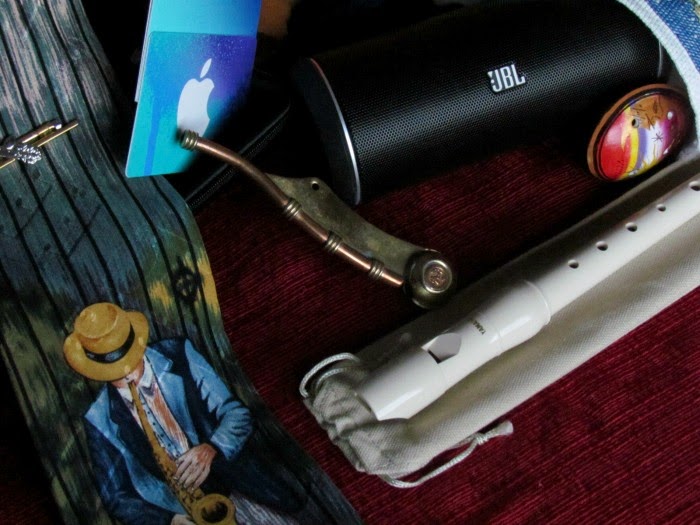 I put together Mark's stocking based on his personality, but I waned to give you some other ideas as well that would go great as a
gift
with the JBL Flip 2 Speakers
More Musical Stocking Stuffers:
music magazine subscription
guitar and/or guitar pics
drumsticks
harmonica
bust or bobble heads of favorite musicians
See how fun this is? Stockings have always been the hardest part of Christmas for me, but I think I'm going to be knocking it out of the park this year!
Do you have a Music lover in your life? Well guess what, we've got a giveaway to help you craft a Musical Stocking theme as well!